Agile Outsourcing - 12 Principles To Guarantee Project Success
14 min read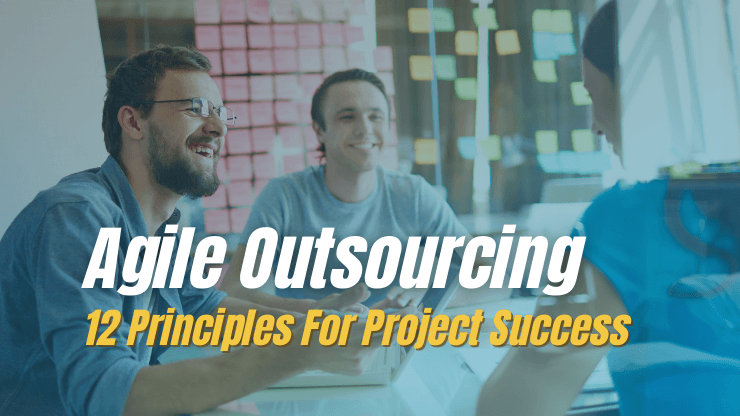 ---
When you implement agile outsourcing it might appear incompatible to merge agile processes and outsourcing. The agile techniques, with its emphasis on collaboration, frequently contrasts with the traditional outsourcing paradigm, which necessitates contracting with providers whose employees are educated primarily to follow direction rather than collaborate.
By mixing in-house and vendor teams you can still implement agile methodology while continuing to outsource and have benefits such as lower fixed costs and increased access to desirable skill sets. The key to success with agile outsourcing is to get a partner that can handle the dynamics of validated learning smoothly with a solid software development process, both on the software design and engineering side.
At SoftKraft we deliver Full-cycle Software Product Development in this article we share with you how we guarantee outsourced projects business objectives are met using 12 principles.
1. Guide your product vision with validated learning
In the beginning, you should focus on defining the goals, business value, and success criteria of your project. By doing this you gain a clear image of your intentions and ideal endpoint. You need straightforward goals to be able to create a realistic plan to accomplish them and achieve client's long term success.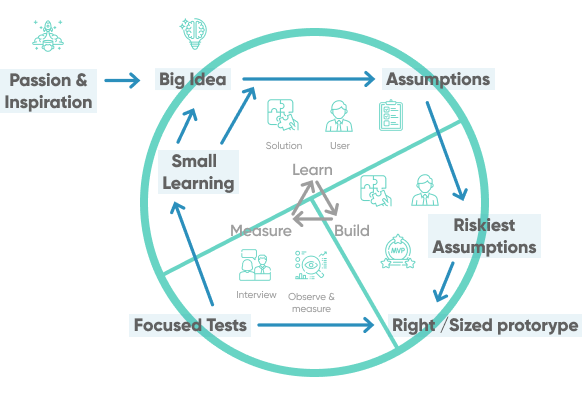 Our advice for creating a solid plan for your project is to look at the bigger picture. These next questions can help you do that:
Are you addressing a specific problem? Can you define the problem?
What is the end goal?
Which team members will be essential for this project?
After you finished outlining your goals you can follow these steps to plan the delivery:
Agree on the necessary features
Establish the amount of work your team needs to complete for every sprint
Include interactions and stories until you reach maximum capacity
Show your plan and gather opinions and feedback on it
Learning is the key ingredient for a successful agile software development project. You have to adopt hypothesis-driven experimentation, iterative product releases, and validated learning.
If you aim to improve your software development process, you need to take into account learning, especially when you bring the lean aspect into it. Build vision pivots. While software developers are not a fan of them, they can't be missing if you want a successful project. In the case of wrong-produced hypotheses, they can be changed immediately.
2. ​​Identify all stakeholders (and involve them in the process)

Every project has multiple stakeholders, and you can't expect all of them to be participating in every detail of the project. When we say project stakeholders:
company leadership
end-users
customers
Outsourced projects can differ in nature, so sometimes, you can expect stakeholders outside organizations or even individuals that will use or be directly affected by the final product. Let's see why you have to involve stakeholders in the agile development process:
stakeholders can provide valuable expertise regarding processes, historical information, or even industry insight.
by engaging your stakeholders, you will reduce risks and uncover them faster
early users enable your team to evaluate the project outcomes sooner
engaging and involving stakeholders regularly from the beginning will lead to a higher chance of a positive project conclusion
3. Manage project scope, budget, and timeline in each iteration
Scope, budget, and timeline are at the heart of project management. We highly recommended to start agile software development project with:
1. Approximate estimations based on your goals You will obtain an initial figure that will represent the total estimated cost for the project. This estimation is built on information from the sponsor regarding the expectations and requirements for the product. Here we have to include target users, purpose, and what issue or problem it is intended to solve.
2. Product discovery workshop This event should mark the start of every project. In this event, you have to gather the whole development team, including scrum masters and project owners, and review the business idea and the details of the future product. By doing this, the team can better identify the required work and budget.
The main discussion points in these workshops are:
The goal of the product and the business idea behind it
User stories
The product's maturity
Possible solutions
Risks associated with the project
Choices regarding technology
The agile approach makes budget management is a shared responsibility. The Product Owner manages the backlog, the sponsor agrees on the budget, and the team delivers the backlog and spends or manages the sprint budget within agreed constraints.
The final step consists of planning a timeline of the stages you will go throughout the project. You have to break down the tasks that must be completed and connect them to your budget and team to obtain an initial estimate of the project timeline.
Even after completing all these steps, you will still be confronted with a high uncertainty level, which is typical for software development. We advise you to allocate extra time to complete the tasks or bring a project manager to guarantee that project progresses fast enough to meet deadlines.
In agile model, the scope, budget, and timeline are under constant pressure from new discoveries from users' and customers' feedback. That's why it's very important to establish a product discovery team. Rember that your goal is working software!
4. Establish a product discovery team
Proper, ongoing requirements analysis and planning are critical to software development. As a result, changing prediction techniques is difficult because the development process follows the plan to a tee.
Agile software development, on the other hand, necessitates the capacity to make changes quickly. At any point during the development process, changes can be made. This requires you to be always ready to act based on new deliverables and quickly update design and requirements.

This design team needs to be constantly validating project deliverables. The reason for this is simple: in case something goes wrong, they can quickly pinpoint where it went wrong.
Sometimes change is inevitable so this means your team needs to plan a process to manage scope change, so the project doesn't suffer later. Your project needs a strong foundation to prevent any unplanned changes in project scope, timeline, or budget.
5. Bring Experienced Engineering Leader
Building an engineering team starts with a high-performing leader, who brings in technical capabilities and chooses necessary technology talent to accomplish the work. A strong leader can advise clients, managed remote teams, and protects you from poor team coordination, and quality assurance issues.
Finding the right Engineering Leader with both technology competency and who can advice customer in agile projects can prove to be a real challenge. But you do have the option of hiring somebody with experience in your domain, and with many projects under his belt is essential.
Outsourcing software development services will spare you from doing the effort of searching, interviewing and hiring, and provide you with an ideal team picked according to your needs.
At SoftKraft we are true software partner and we have dedicated development tracks to ensure talent pool for Engineering Leader position. Our Engineering Leaders not only to handle the technology, and team, but also work towards client's long term success on all levels. For example, they are capable of joining your design team and contributing to the product development process.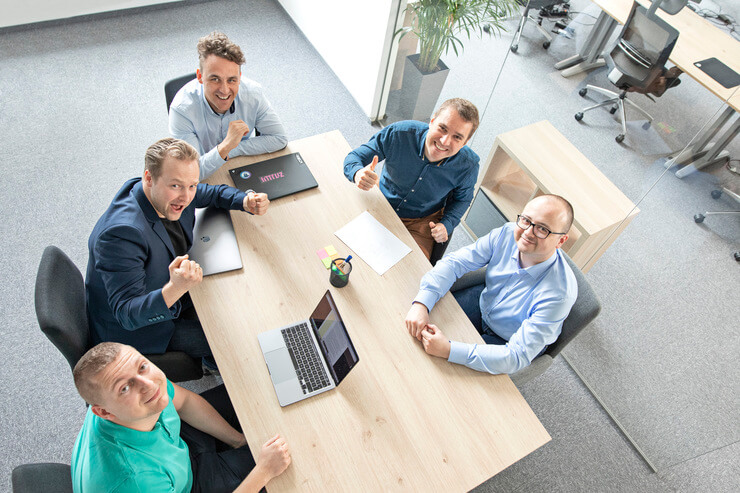 6. Build high performing engineering team
We believe that dedication is contagious: if team members are proactive and driven, and the manager serves as a role model, other team members are more inclined to behave similarly. The best way to build dedication is to equip the team and allow the team to make more decisions. I.e. allow them to set timeframes and conduct team rituals. Engineering Leader must drive performance in a concise manner that is guided by your vision and business goals.
Many attempts have been made over the years to measure the performance of software teams. The issue is that most models have two major flaws: they focus on outputs rather than outcomes. They are more concerned with individual performance than with team or company performance.
In practice, a high performing engineering team ultimate metric is change fail percentage, which is the proportion of changes to production that result in a hotfix, rollback, or period of degraded performance. This includes, of course, software releases and configuration changes, as both are common causes of software failure.
This metric is the Lean equivalent of 'percent complete and accurate,' commonly used in a generic product delivery process. This is common sense, and it is consistent with our understanding of manufacturing companies: you don't want to increase factory production throughput at the expense of quality control.
With high pressure on teams to perform, the failure percentage is another vital software engineering KPI. The ratio of defects presented in pre-production testing to those making it to production is your defect escape rate. This enables you to assess your team's software releases' overall quality regularly.
Read more Software Development KPIs — Practical Metrics for Teams.
7. Hold a kickoff meeting
As the first meeting between members of the project team and, potentially, the client or sponsor, the kick-off meeting is an excellent opportunity to establish expectations and create strong team morale.
Your kick-off is a time to introduce the team to the project, decide on teamwork, and set project goals and check-ins. You might want to outline how you'll communicate, meet, and what could slow down the process (and how to avoid that).
Our typical project kick-off meeting agenda:
Team Roles - introduce team and what they will be responsible for.
Vision statement - like "For <customer>, the <project name> does / provides / solves <problem / solution statement>. Unlike <competitor / comparison point>, it will <differentiator>."
Project Scope - You present the MVP features we need to deliver. It would be great to cover also a high-level epic journey: What user personas are involved? Where it fits in the user experience? NOTE: people will know the documentation you provided before the meeting.
Timeline and Metrics - Sponsor presents his point of view on Trade-off so we can make smaller decisions quickly and autonomously. Refer to the Trade-off Sliders play for full instructions.
Success factors (group session) - to engage people. Ask everyone to write down what they think will make this project a success. Have the team post up their ideas. Discuss how you could measure each one.
RAID (group session) - like the previous sessions, but focusing on risks.

Risks - things that could happen, and would affect the quality, timing or cost of the project (or a combination).
Assumptions - things that are currently true and form the basis for a plan, but any change in them would create risk or issue.
Issues - things that have already happened that adversely affect the project.
Dependencies - things that need to be done or provided, either once or regularly, to make the project a success.

Team communication plan - Here I will discuss how we will communicate - how often, in what form, etc.
8. Prepare and estimate the project requirements using Planning Poker
The project requirements have to be listed out and then estimated. Scrum and agile methodologies approaches require that you create a Product Backlog for this task. Once you have your list, you should leave the estimation to the people who will be working on those items. In Agile management, the estimation must be done by someone on the team to be considered valid.
Planning Poker ends up with assigning a score for each item on the list. Note that scores represent the amount of effort each item will require. They haven't been attached to a timeline yet.
Planning Pocker estimating method brings multiple benefits for the project:
encourages team collaboration and team building
conversational style can provoke valuable insights from software development team who might not have a platform to discuss their opinions and experiences otherwise
requiring individuals to defend their predictions results in estimates that more adequately adjust for missing data
improves estimate accuracy, especially on items with a lot of uncertainty
9. Measure work progress using the definition of "done"
While Agile software development teams are defined as cross-functional, they come with some limits. For example, not every software development project will include a lawyer in their team.
The limited nature of cross-functional teams is used to gauge how much the team will deliver in each cycle. If something appears and it is outside the team's knowledge, it will be done pre-work or at the end of the cycle or even concurrently with the development team.
To obtain a better understanding of this work you can create an organization-wide value stream map for project delivery. By creating this map, you will find out the amount of time spent on each type of work. If you take out the work that has to be done by the Agile team, you will obtain a clear image of the work that needs to be done outside the team.
The amount of work found in the value stream map is a good start for setting up the budget based on the project's cycle labor costs.
10. Do risk assessments regularly
Every project comes with risks. Risks are problems that may arise over the course of project development. Project management has the task of identifying and reducing risk beginning at the project planning phase. We recommend you plan a meeting to discuss this or simply ask all the team members about what risks may arise.
When considering risks, you should look into these areas:
Project Scope
Resources (staff, financial, and physical)
Project delays
Failures of Technology or Communication
Complete control over all potential risks is impossible, so you should focus on considering them early on to avoid project failure.
Here's an example of the technical risk management plan:
11. Communicate, Communicate, Communicate
Agile manifesto encourages developers to communicate better by putting team collaboration. When using agile model, the team members work closely with the stakeholders, resulting in improved decision making, and better customer satisfaction. Using task management software can help increase efficiency.
Keep in mind that agile methodology needs solid communication between the client and the offshore development team to achieve project goals and ensure proper software delivery.
Honesty is important in this relationship. Because of some cultural differences, a common situation is that software developers avoid speaking their minds for fear of upsetting the client. Sometimes misunderstandings can appear, caused by filling the knowledge gaps with wrong information.
Frequent team visits and other team building activities are a great addition, but communication tools, outsourcing vendor company culture and business processes guarantee outsourcing model success.
The point is that there's nothing such as over-communication in agile software development. To set the project for a great result, we recommend setting up as many communication channels as you can.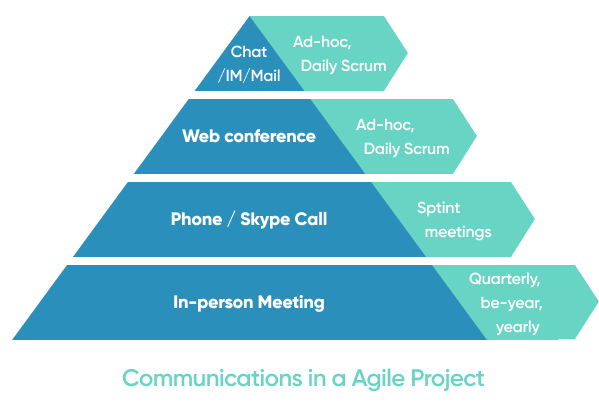 Outsourcing vendor appoints at least one member in their team who speaks fluently in the client's native language to represent the client accurately. This person's role usually falls into the categories of Engineering Lead or a certified Scrum professional. You should consider an individual that can hold this responsibility, and it's known to be reliable.
On the other side, clients have to name a dedicated representative, that is very familiar with the knowledge and can communicate efficiently with the offshore development team.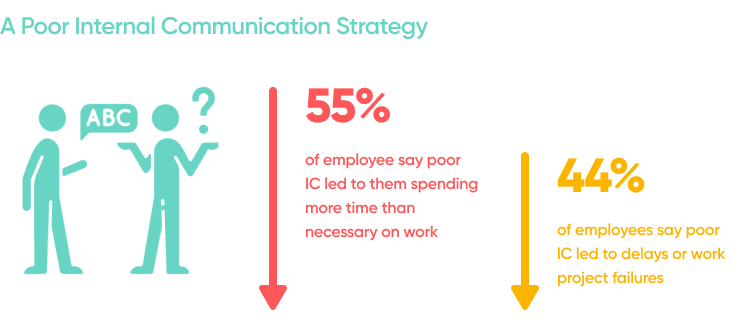 The client's representative is usually authorized to accept changes or approve work.
12. Continually seek excellence
Offshore teams need to constantly seek excellence. With agile methodology teams are more likely to bring up new ideas and innovation than waterfall development Ultimately, these teams are more comfortable with making high-stakes decisions that lead to high-quality products.
Self-organizing teams spot weaknesses faster because all team members have a sense of ownership that makes them want to improve. The project managers of these teams are more likely to keep up with trends and the changing environment of software development.
Conclusion
Many organizations apply agile techniques in outsourcing. If you have a good opinion of the supplier, you can go ahead and connect the assigning of the project to the success of the iterations. While you're at it, keep sprints short. Don't forget to delimitate specific success standards, besides acceptance tests and delivery timeline. Agile software development outsourcing means that you can check on the performance of your offshore team and make changes if necessary.
Finally, you can simply evaluate the team's work and decide if software outsourcing helps achieve your business goals.