If you're designing an app for your business, look to successful apps on the market for inspiration. By doing this, you can quickly understand user interface and user experience trends, and get a better understanding of what actually works - and what doesn't.
That's why we've compiled 12 successful business app designs that users love. In this article we'll also share some helpful tips on how to design an app that meets the needs of your business. So read on, and discover how to design an app that meets the needs of your business.
What is business app design?
Business app design is the process of creating user interfaces for business-oriented applications. It involves creating user-friendly designs that help easily access the features and functions of an app. The design of a business app should be tailored to the needs of the business, the target users, and the goals of the app.
To design apps geared towards businesses, a company needs to involve a multidisciplinary team of UI/UX designers, product leaders, business analysts, and software developers to ensure the app is tailored to the needs of their target users and will be successful in the B2B market.
Mobile apps design vs web design
Mobile apps design and web design are both important elements of business app design. Mobile apps allow access to unique features that can improve the user experience, like push notifications or device-specific hardware. On the other hand, responsive web app design can help to ensure that the application looks and works the same across multiple devices.
When beginning your own business app design project, you should decide if you will be designing a mobile app, responsive web app that works on multiple devices, or another type of app. This will help to guide your project and ensure you are utilizing the most relevant industry best practices.
12 business app designs that users love
If you are ready to design apps yourself but you're not sure where to start, let us suggest drawing some inspiration from already successful business apps on the market. This allows you to quickly understand user interface (UI) trends, be inspired by the best practices of the most successful apps, and determine what works and what doesn't when it comes to user experience (UX).
Additionally, by studying the design and functionality of successful business apps, you can also learn which features are the most popular with users and which ones are essential for creating a successful app. With this knowledge, you can begin to create a design that will give users a positive and engaging experience.
Google Calendar
First up we will look at Google Calendar. This is an app most everyone knows about. As a B2B/B2C cross-over app, Google Calendar has successfully won over both users for personal calendar management and business clients.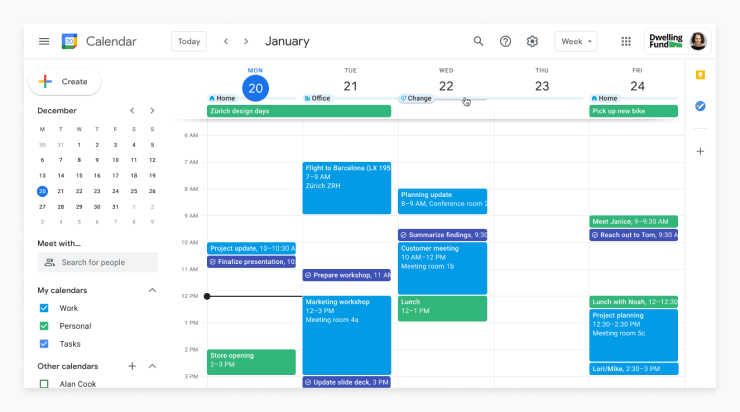 At its core, it provides a simple yet powerful way to keep track of important events, tasks and reminders through a virtual calendar app. It allows users to create and share calendars with others, access them from any device with an internet connection, and customize their calendar view to their individual preferences.
Businesses can use Google Calendar to sync the schedules of multiple employees, making it easy to coordinate meetings, deadlines, and other important events. With its intuitive design and wide range of features, Google Calendar is an invaluable resource for businesses of all sizes.
Why users love it:
Intuitive user interface: Google Calendar stays true to the Google brand with a clean, simple interface that users are comfortable using.
Automated reminders and notifications: Google Calendar can send reminders and notifications to users when their events are approaching or overdue, helping them stay on top of their tasks and commitments.
Integration with other Google services: The app seamlessly integrates with other Google services, such as Gmail, so users can easily manage their emails and schedules in one place.
Real-time collaboration: The app design allows users to share and collaborate on events and schedules with team members in real-time, helping them stay connected and aligned.
Cross-platform availability: The app is available on both desktop and mobile devices, which makes it easy for users to access their calendar and manage their events on the go.
Asana
Asana is a project management app that helps teams manage projects, focus on what's important, and organize their work in one place. Teams can stay on track, keep projects in order, and hit deadlines no matter where they are. Asana provides a complete view of work, including task synchronization, collaboration tools, and progress monitoring.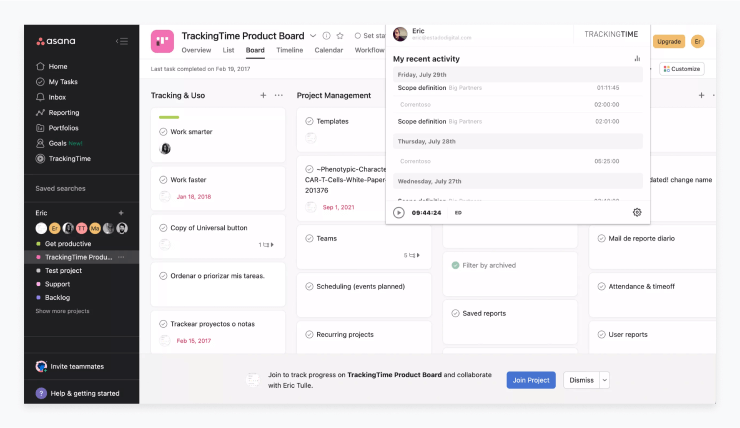 Teams can plan sprints, share feedback, and achieve successful launches using the app. Asana ensures teams always have the data they need to make the right decisions and keep projects on track.
Why users love it:
Streamlined collaboration: Asana's task and project management tools make it easy for teams to collaborate on projects and tasks, enabling them to stay on the same page and maximize efficiency.
Powerful reporting and insights: Reporting features provide admins with insights into their team's performance.
Advanced customization options: Advanced customization options allow users to tailor the app to their specific needs and workflows, making it easier to stay organized and productive.
Integrations with other services: The integrations with other services such as Google Drive, Dropbox, and Slack make it easy for users to connect their content repositories and share files across multiple platforms.
Slack
Slack is a communication and collaboration tool that enables teams to work together in real-time. It offers a messaging platform where users can share files, collaborate on projects, and communicate with each other. With Slack, teams can get organized, streamline their workflow, and stay connected no matter where they are.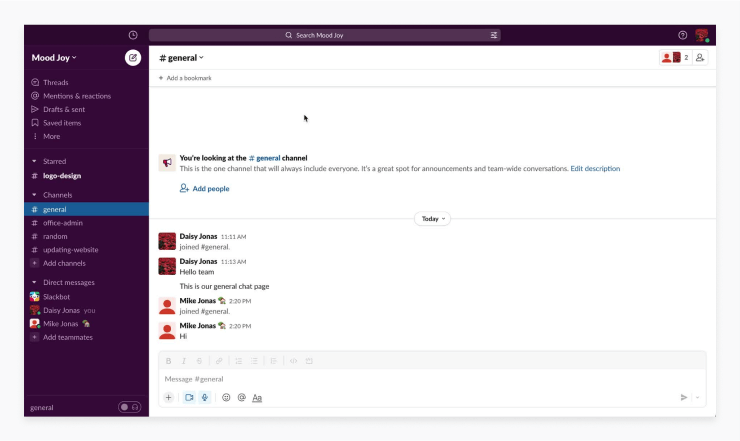 Slack also offers powerful search and analytics capabilities, allowing teams to dig into their data and gain valuable insights into their performance. With Slack, teams can connect with each other and stay productive, no matter where they are.
Why users love it:
Easy to use: Slack leans into a familiar messaging app style, helping to reduce the learning curve for new users.
Security: Slack has a range of security measures in place to keep your data safe, including encryption and two-factor authentication.
Customizable: You can customize the Slack app to suit your organization's needs, including customizing your channels, adding a logo, turning on notifications, and implementing integrations with other apps.
Flexible: Slack is available on a variety of platforms, including iOS and Android, as well as a web browser, making it easy to access from anywhere.
4.Zendesk
Zendesk is a customer service platform that enables businesses to improve their customer service operations. It provides a range of tools, such as ticketing and help desk systems, a live chat platform, and a knowledge base that make it easy for customer service agents to quickly resolve customer issues and manage a queue of requests or tickets.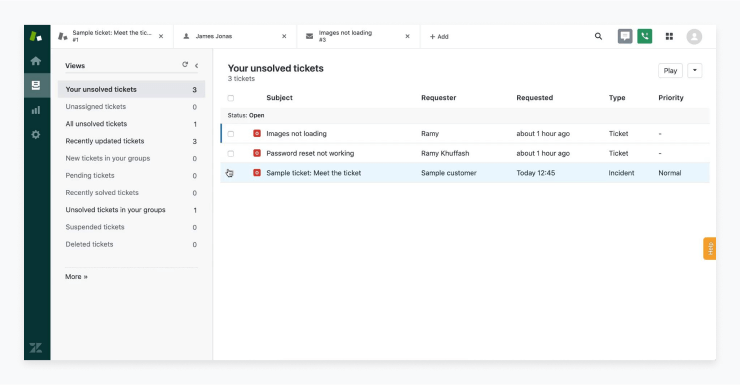 Additionally, Zendesk offers analytics, automation, and reporting capabilities to help businesses gain insight into how their customer service is performing. With Zendesk, businesses can simplify their customer service processes and provide better service to their customers and employees.
Why users love it:
Customizable: Teams can white-label the software with their own branding, logo, and color schemes.
Easy to deploy: 20+ template reports and dashboards are available out of the box as well as simple step-by-step instructions to help teams deploy and install the app to get up and running quickly.
Integration: Teams can integrate with other business apps like CRM, ecommerce, and social media for maximum efficiency using Zendesk API.
Automation: The app design includes automation capabilities to streamline customer service processes and help agents stay free from mundane apps.
Time-saving tools: This app was developed specifically to help save support agents and project managers time by providing users an online self-service portal that features a knowledge base, community, and FAQs.
Dropbox
Dropbox is a business application that helps companies stay organized and productive. With Dropbox, businesses can keep track of sensitive data and documents with enterprise-level security. Collaboration is simplified, with the ability to share files and send requests to non-Dropbox users.
Team management solutions, such as device and location tracking, login tracking, and user management, provide businesses with the tools they need to stay connected and efficient. Additionally, centralized billing makes managing costs easier. With Dropbox, businesses can save time, protect information, and maximize their productivity.
Why users love it:
Easy to use: Dropbox is incredibly easy to use with straightforward drag-and-drop functionality.
Security: Provides robust security features to keep your data and information safe, such as two-factor authentication, 256-bit AES encryption, and access control settings.
Collaboration: The app makes it easy to collaborate with colleagues and customers, enabling users to leave comments, share documents, and edit files in real-time.
Anywhere access: Dropbox allows users to access their data from any device, no matter where they are located.
Integrations: With countless integrations, Dropbox lets users connect their favorite apps, like Slack, Salesforce, and Microsoft Teams.
Adobe Creative Cloud
Adobe Creative Cloud is a suite of products to help companies create stunning visuals and compelling content. Creative Cloud applications are used by professionals in various industries, including graphic design, video production, website design, and more.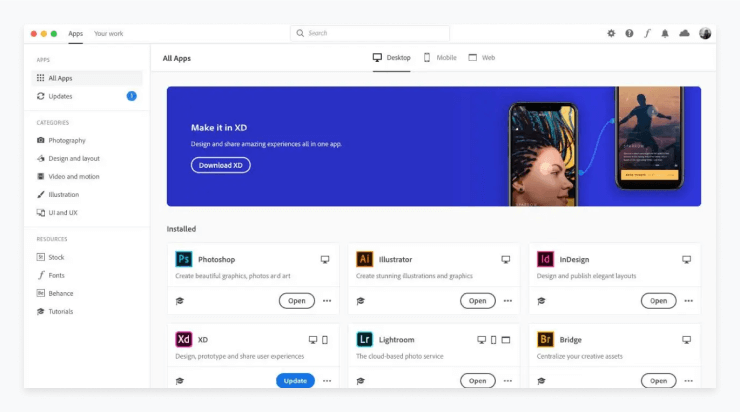 With Creative Cloud, businesses can take an idea and turn it into marketing material, creative images, business presentations, illustrations, website graphics, promotional videos, and more. Creative Cloud also offers a range of collaboration tools, allowing teams to work together on projects and remain free of manual file sharing.
Why users love it:
All-in-one: This comprehensive suite of software can help businesses handle all creative, branding, animation, illustration, design work and more.
Easy sharing and collaboration: The suite of tools allows users to share, comment, and review projects with colleagues and clients.
Customer support: Ample training resources are available to help designers and other creatives maximize the effectiveness of their Adobe Creative Cloud experience.
Industry leading: The Adobe suite is well-respected by designers, creatives, and business leaders.
Salesforce
Salesforce is a powerful business application that helps businesses better engage with customers, partners, and potential customers. It offers a comprehensive suite of cloud-based tools, such as CRM, marketing automation, and analytics. These tools enable businesses to track customer activity, target and personalize their outreach, and monitor sales performance.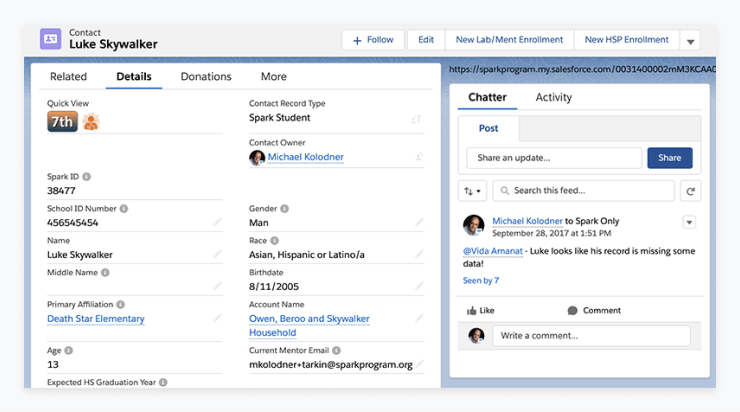 Salesforce can help both a small business and a global business alike provide a higher level of service to their customers by automating customer service processes and streamlining sales processes. With Salesforce, businesses can find more prospects, close more deals, and provide better customer service.
Why users love it:
Cloud-based platform: Salesforce provides a cloud-based platform for businesses, allowing them to access their data remotely and quickly make changes without hardware or software installation.
Customizable: The app design means it can be customized to fit the unique needs of any business, allowing them to tailor their system to their exact specifications.
Automation tools: Salesforce can automate mundane tasks, which can help to free up employees to focus on more important tasks.
Scalable: Salesforce can be scaled up or down quickly depending on the needs of the business (crucial for targeting businesses of all sizes).
Integrations: Salesforce can be integrated with other business software, making it easier to manage customer data, automate processes, and create custom reports.
Microsoft Teams
Microsoft Teams is a business application that enables teams to collaborate and communicate more efficiently. It provides an integrated workspace for teams to share documents, have conversations, and hold virtual meetings. Teams can easily stay on the same page with real-time chat and collaboration tools, and access the latest files from anywhere.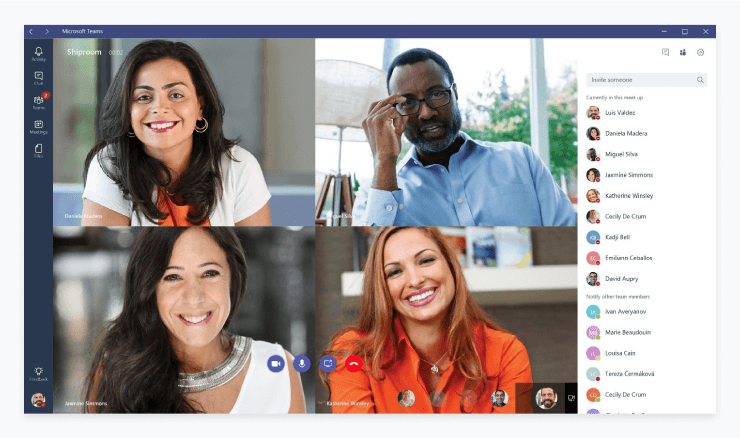 Microsoft Teams also features powerful analytics and AI-driven insights to help teams optimize their workflow and gain better insights into customer engagement. With Microsoft Teams, businesses can collaborate more effectively and streamline internal processes.
Why users love it:
Collaborative features: Support for real-time collaboration allows users to work together on documents, manage tasks and assign work.
File sharing: Teams provides an innovative way to share and access files, with support for a wide range of file formats.
Communication: Voice and video calling, chat, and messaging tools help users communicate and stay up to date.
Integration: Microsoft Teams integrates with a variety of other services, such as Outlook, SharePoint, and OneDrive, enabling users to quickly access the tools they need.
Trello
Trello is a business application that helps teams and businesses manage projects and tasks across different locations. It's easy to use, featuring a drag-and-drop interface that allows users to create Trello cards to represent tasks.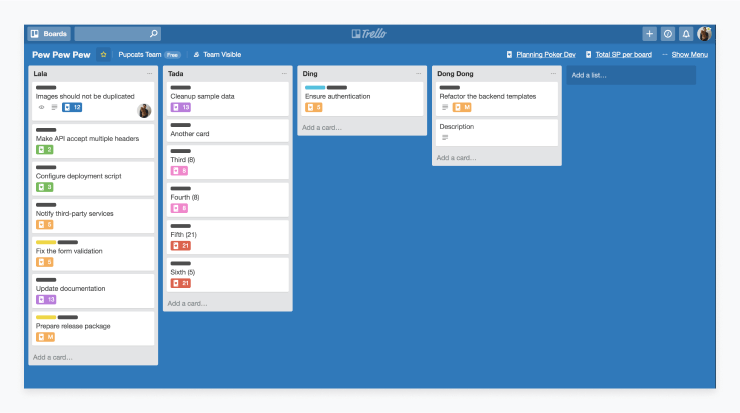 Trello's free version and Standard plan provide a Kanban-style view of tasks and projects, while the Premium and Enterprise plans offer additional features and views. With Trello, teams can stay organized, collaborate more efficiently, and remain on the same page.
Why users love it:
Intuitive UI: Trello's user interface is easy to use and navigate, allowing users to quickly understand how to use it and make the most of the features.
Flexibility: The app design allows users to customize their boards and workflows to fit their needs.
Collaboration: Trello allows users to work together in real-time, making it an effective tool for collaboration and communication.
Mobile app: It has a convenient mobile app, allowing users to access their boards and data on the go.
Automation: Trello provides automation tools that can help users save time and energy by automating tasks and processes.
Freshworks
Freshworks CRM provides powerful features and an intuitive user interface, making it easy for teams to stay organized and collaborate. With its customer support and integration capabilities, it ensures that customer relationships are managed quickly and efficiently.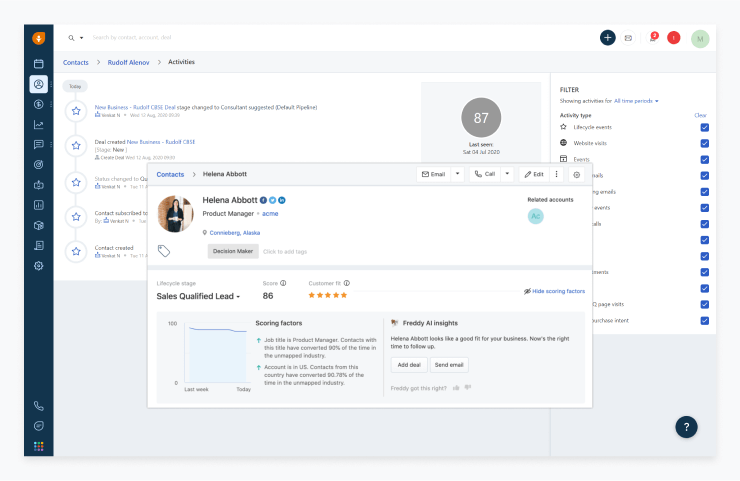 Additionally, its affordability and scalability make it a great fit for a growing business. With its robust features, the Freshworks CRM app design helps teams stay connected and stay on top of customer relationships, ensuring that customer satisfaction remains high.
Why users love it:
Easy to use: The app design features an intuitive UI design that makes it easy for even first-time users to quickly get up to speed and start using the app.
Automation: Freshworks helps users automate and streamline complex workflows, so they can spend more time on high-value tasks.
Integration: Organizations can integrate the app with a wide range of popular applications, allowing them to easily manage their data and tasks.
Support: Excellent customer support is provided, allowing users to get help quickly if they run into any issues.
Basecamp
Basecamp is a business application that helps teams stay organized and efficient. It allows teams to collaborate on documents, plan projects, assign tasks, and chat with one another in real-time. Teams can keep track of their progress in one centralized location, which makes it easier to stay on top of deadlines and collaborate with everyone involved.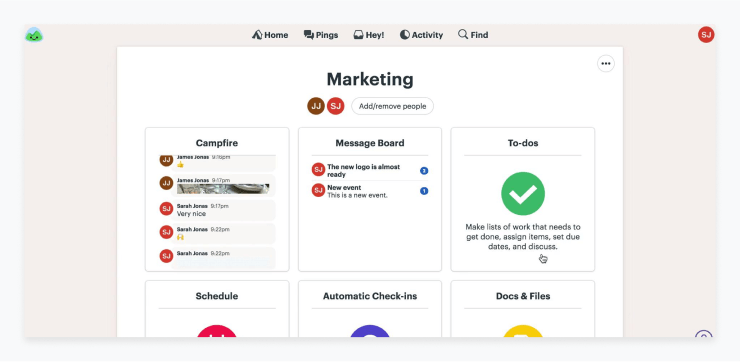 The Basecamp app design makes it possible for teams to stay organized and make their projects run smoother and faster. It's an invaluable tool for teams that need to be efficient and get work done without wasting time.
Why users love it:
Easy to use: Basecamp is designed to be intuitive and user-friendly, so teams of all sizes can quickly learn how to use it.
Centralized communication: All project-related conversations, documents, and tasks are stored in one place, making it easy to stay on top of everything.
Automation: Basecamp allows users to automate processes such as task assignments, notifications, and reminders, so tasks can be completed more efficiently.
Flexible: Users can customize Basecamp to suit their needs, allowing them to choose the features and tools that best fit their project.
Collaboration: Basecamp encourages collaboration by allowing teams to share ideas and work together in real-time.
QuickBooks
QuickBooks is the go-to business application for small companies. It helps businesses manage their finances, including income and expenses, so they can get a clear picture of their financial health. The software offers a range of features and services such as invoicing, bill payments, reporting, and tax preparation.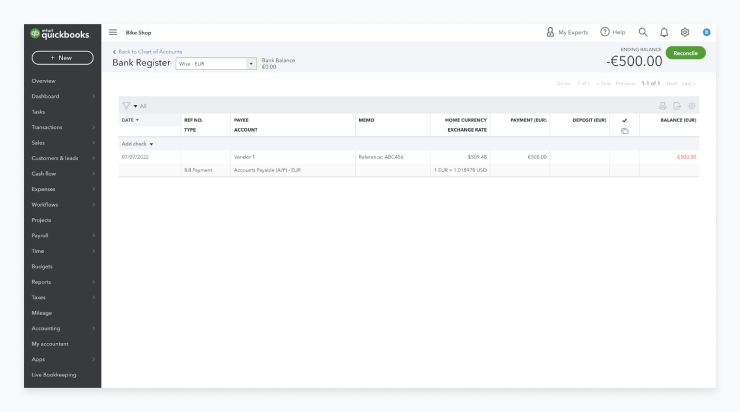 QuickBooks has different solutions to meet different business needs, including QuickBooks Online, QuickBooks Desktop, QuickBooks Payroll, and QuickBooks Time. With QuickBooks, businesses can stay organized and on top of their financials.
Why users love it:
Automated features: Automated processes such as invoicing, payment processing, and expense tracking, makes it easier for businesses to keep track of their finances.
Comprehensive reporting: Provided comprehensive reports make it easy to analyze financial data and make informed decisions.
Secure: Quickbooks is a secure platform, providing users with an extra layer of protection for their financial data.
Business app design process
The process to design apps for businesses can vary quite a bit. The exact process you will follow can depend on the type of app you are building, the industry you are targeting, and the scope of the development project.
However, there are some core process elements for most business application design projects. Let's take a look:
Identify the problem: The first step in designing a business application is to identify the problem or need the app is intended to address. The problem should be specific and clearly defined. Think about your app design project as a quest to solve your users biggest frustration. If you can build an app that truly makes their lives easier and helps to reduce overhead or improve efficiency for a business, you're on the right track!

Research the target audience: Once you have an idea for your app established and have a clear sense for the problem you will be solving with your app, it's time to dig into more details about the target audience. We recommend thinking about this in parts. First, who are your end users - the people actually using the app? What are their needs and expectations? Secondly, who are you selling to? What would help convince them they need your app above all others?

Determine the app features: After you've identified the target audience, you can start determining the features the app should have. Consider both the core features and any additional features that would make the app stand out. Be careful not to go overboard here. It's better to have a small set of well-designed features than a long list of features that are poorly designed and only confuse the users.

Create the user interface: Once the features of the app have been determined, the next step is to create the user interface. Consider UI elements such as your branding, color scheme, typography, logo, and overall how you will portray your brand through visuals. Also think about the user experience (UX) and how the user will flow through different screens. How will they accomplish their core tasks? How will they navigate around your app?

Development and testing: Now it's time to start software development. This is where your app begins to come to life. Your UI/UX app design elements will be turned into functional features and screens. Throughout this stage it's important to test it to make sure it's working properly. This involves finding and fixing any bugs or errors as well as conducting user testing to see how real users interact with your app.

Launch and monitor: Once the app has been tested and debugged, it's ready to launch. It's important to monitor the app once it's launched to ensure it's meeting the needs of the users.
Tips for designing apps for small businesses
Many of the apps we have looked at in this article are built to work for enterprises, but what about targeting the small business sector?
If you're building an app for small business users, we recommend you:
Focus on simplicity: Keep the design of your app as simple as possible. Small businesses are likely to be using the app for the first time and may not be familiar with the technology. Avoid overly complex designs or features that require intensive training.
Develop a mobile version: Develop a version of the app that is optimized for mobile devices, including smartphones and tablets. This will help ensure that small business owners can access the app quickly and easily, even when they are away from the office.
Make security a priority: Make sure that your app is secure and that it is able to protect the data of a small business. Develop a plan for how data will be stored and secured, and consider using encryption or other security measures to protect data from unauthorized access.
Offer Customization Options: Allow each small business to customize the app to meet their specific needs. This may include features such as different user roles, customizable dashboards, and the ability to customize the look and feel of the app.
Integrate with Other Services: Make sure that the app is able to integrate with other services used by a small business. This could include services such as accounting software, customer relationship management systems, or e-commerce platforms.
Test and Monitor Performance: Test the app thoroughly before releasing it to ensure that it is functioning properly. Additionally, monitor the performance of the app after it is released in order to identify any issues or areas for improvement.
Offer Support: Make sure that your app users have access to support, either through a website, help desk, or other means. This will help ensure that any problems or questions are quickly resolved.
Conclusion
Designing apps for businesses is an important and challenging task. It requires a multidisciplinary team of UI/UX designers, product leaders, business analysts, and software developers to ensure the app is tailored to the needs of the target users.
We have looked at 12 business application designs that have been successful in the market and have gone through the UI design process, as well as some tips specifically for designing apps for small businesses . With careful consideration and thoughtful design, businesses can create apps that provide strong ROI for businesses and provide great value to their end users.
Looking for a software development partner? At SoftKraft work closely with busineses leaders to understand their unique software needs, map out a strategic solution, and build software to your specifications so you can maximize your ROI - reach out for a free quote!