With new technologies emerging all the time and old technologies constantly evolving, it's essential that organizations keep up and adopt them to stay ahead of their competitors.
Whether you are nurturing the idea of a startup, or you want to scale an existing business. On-demand CTO as a Service can help you finding an optimal balance between skills and rates and leveraging a multi-disciplinary technical team.
What Is a CTO as a Service?
CTO as a service(CaaS) stands for the business advisory and technical implementation services provided by a Chief Technology Officer for a startup. A CTO is an executive that meets a startup's technical needs and also coordinates its research and development. He or she assesses both the short and long-term requirements of your business and leverages investment to enable your startup to achieve its objective. The CTO reports to the Chief Information Officer (CIO), and in some cases, the Chief Executive Officer (CEO) or the founder.
Companies that don't have a CTO or lack the knowledge of how to hire one can outsource the advisory and responsibilities of a CTO to an external expert. While the concept of CTO as a service might still be new, it is fast gaining momentum.
What Are the Benefits of CTO as a Service?
One of the notable benefits of CTO as a service is that you only pay for the services you enjoy. This is more like software as a service(SaaS) or Platform as a service (PaaS) where you pay for cloud facilities you use. Your startup might not have the financial capability to bear the cost of hiring a full-time CTO. Even if you do, it makes a whole lot of sense to minimize cost and maximize your profitability by outsourcing your CTO roles.
CTO as a service:
What Are The Types of CTO Services?
CTO types depend on the functions and the collaboration you expect from a CTO. Complex and technical functions will require a full-time, in-house CTO while consulting and advisory services can necessitate hiring a part-time, external CTO.
Nevertheless, we can break CTO services into five types.
Full-time internal CTO services
Full-time offshore CTO services
Part-time offshore or Fractional CTO services
One-time CTO Services
Interim CTO services.
Full-time internal services
A full-time, internal CTO services include technical and business support. A full-time CTO also offers full-time support in the aspects of business development, planning, and soft-skills management.
However, you should know that going for this option will attract extra expenses for your startup. For instance, office rent, HR expenses, and miscellaneous expenses will be borne by you.
Full-time offshore services
Outsourcing to a full-time offshore CTO affords you the privilege of a full-time collaboration while you still pay the budget CTO salaries. In this case, a specialist becomes an in-house expert with about 40 hours worked per week remotely.
Part-time offshore or Fractional CTO services
The CTO in this category works the expected and agreed hours in the contract. This option helps you evaluate what services are needed and the time it will take to complete them. Since it is cost-saving, this option is the best when it comes to collaborating with an external CTO.
One-Time CTO services
This option is suitable for projectized companies. The CTO focuses on specific duties and processes. Specialists in the category are employed to troubleshoot technical areas or perform an audit.
Interim CTO services
An Interim CTO is a technical expert hired to temporarily collaborate with a full-time internal CTO and other C-level executives on some technical and business responsibilities.
The main aim of employing an interim CTO is to help you invigorate your technology and processes and to assist your team in driving digital transformation.
CTO Services by Startup Growth Stage
Every startup needs a CTO to manage the technical aspect of the business. It is therefore important to define the roles, and functions they perform by Startup Growth Stages.
Prototype
The prototype stage or the proof of concept (POC) is a phase in your startup's growth where you conduct a test to validate your idea or product to know how feasible it is for commercialization.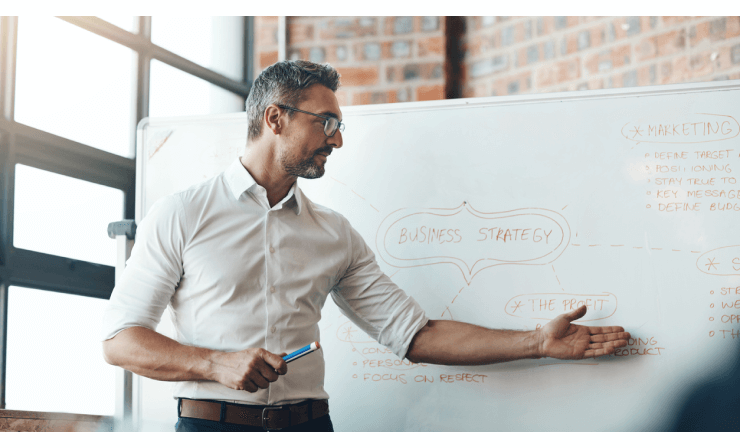 The role of a CTO includes
conducting feasibility studies
conduct proof of concept test
prepare a document, presentation, or demo explaining the idea or product.
Discovery Phase
Most startups have brilliant ideas but lack execution. If you fall into this category, you only need to hire a CTO to assist you with the discovery phase of your idea or product.
Some of the responsibilities expected from a CTO in this phase include:
architecture Development
technical Solution Design
figuring out the best matching tools and technologies
clarification of Project Goals
picking different features for the minimum viable product (MVP) development.
risk assessment and reduction
analysis of competitors
selecting the best tech stack
Project planning
External CTO plays significant roles in planning the product development process, prioritizing features, and picking which features deserve the utmost attention.
The role of a CTO in this regard incorporates the development of a product plan and optimization. Optimization in this regard simply means highlighting the process, as well as the functionality that needs to be streamlined and making your business cost-efficient.
This role also applies to the project scaling phase. You need a CTO to perform the following planning responsibilities:
enhancing the development processes
features prioritization
architecture Enhancement
creation of Development Roadmap
budgets and Timelines Estimation
Project Pitch
A CTO is valuable to your business as they are not just senior developers or technical experts, but someone who brings in a broad range of skills, knowledge, and experience. They perform business analysis and can simplify technical details during funding rounds.
Most startups hire CTOs as a service to pitch business ideas and products to investors. They can help you visualize your business ideas and educate investors on the technical details and what is in it for them.
A CTO can assist your startup when pitching by:
preparing a tech pitch deck
explaining the technical value of your idea or product to investors
describe what is in it for investors
proving that the team possesses technical capabilities and deep expertise.
providing answers to any technical questions asked by investors.
Minimum Viable Product
You need a CTO to assist you in designing a launchable version of your product that has a minimum and relevant features which communicate the value proposition.
As a startup, you need to attract early adopters, generate initial feedback to improve your products, and fix bugs.
A CTO can help you devise your MVP approach so you can:
enter the market early
test your ideas early with actual users (market validation).
work on feedback to develop a full-fledged product that touches the users in their pain points.
Technical Solutions
A CTO has a deep development competency and commands an in-depth knowledge of the business.
Technical solutions remain one of the value that a CTO adds to your business.
He or she solves the most difficult issues. Generally, the solutions they provide include:
choosing the feature that aligns with your business requirements.
proffering solutions to technical issues.
finding the tools and technologies that are both cost-effective and efficient for your business.
assessing the effectiveness of your existing tech stack.
handling complex issues that are beyond your team's capability.
creating architecture and optimization
functionality extension
picking the best technologies for scalability
complex integrations
Project Scaling
Expert opinion is highly important at the scaling stage. The more reason you need an experienced CTO at this stage of your startup growth. The roles will include analyzing your business, evaluating the requirements and designing a complete scaling strategy.
A CTO will also be functional during the scaling process by helping you with:
architectural and technical decisions
figuring out the system operating limit that is both time and cost-saving.
risk-less project scaling
analyzing possible strategies
cloud, hosting and optimizations
designing a complete technical scaling approach
Growth
Hiring
For young startups, the founders and CTOs most of the time double as recruiters who hire the future team. As the business grows, the CTO can collaborate with the HR team on hiring developers for startup that are best-fit for specific roles.
A CTO can offer advisory roles in the aspect of recruitment by:
developing criteria for technical employees
evaluating technical skills and expertise of the team
coordinating technical interview sessions.
determining what soft skills developers have and checking whether they can work as a team.
inspiring team when there are challenges
Project Audit
Maintaining quality and product reliability might demand that you conduct an audit with external CTO. That way, you will have an unbiased perspective about your business performance.
During the project audit session, a CTO can help with:
assessing your code quality
verifying team productivity
project quality and assessment of functionality
evaluating the effectiveness of the remote team
tracking delivery process
compiling a recommendation list on improvements.
Soft Issues
Issues are bound to happen. Back-end developers and front-end developers can blame each other or someone else. While the founder can perceive the problem, he or she may find it difficult to figure them out. A CTO can assess the situation and provide possible solutions to clear the misunderstandings which can impact the development process.
A CTO can:
analyze and resolve conflicts.
manage Team
develop new collaboration procedures.
What Are The Benefits of External CTO Service?
Save cost
Several startups need the services of a CTO. Since they cannot employ a full-time, it is cost-efficient to hire a part-time CTO. You will enjoy all the services you need at a budget price.
Pay-per-Use
You don't incur additional expenses when collaborating with an external CTO. You only pay for the service rendered. This is not so in the case of an in-house CTO where you bear all expenses
Access a large talent pool
Outsourcing exposes you to a global talent pool. An external CTO also saves you development expenses.
Independency
Hiring an external CTO affords you an unbiased opinion of an expert.
Improved Agility
While you can build your business using a trial-and-error approach to run your business, you might be signing up for a long trip. The input of a CTO counts as you get to clarify and resolve technical and business issues which can create a lag in your business processes and startup growth.
Conclusion
CTO as a Service enables startups to harness the skills and experience of a full-time CTO but at a more manageable cost. With on-demand CTO you are paying only for the technical leadership effort you need. It can be a great and cost-effective solution for your immediate needs and long-term challenges!