Are you looking to boost team performance? Business software could be your answer. Companies that are open to using technology are much more likely to increase sales and profits than low tech adopters. In fact, 82% of small business power adopters saw an increase in sales and 84% saw an increase in profits compared to their low technology adopter peers.
With the right business software, you can give your team the tools they need to be more productive, strategic, and successful. In this article, we'll share with you 10 examples of business software, so you can identify the right software to boost your team's performance and maximize your profits.
Benefits of business software
Embracing technology and becoming a "power adopter" can be a game-changer for your business.Instead of wasting time on manual work or dealing with cumbersome, inefficient processes, your team will be able to focus on more strategic work. Deploying the right business software can lead to:
Improved collaboration: Business software can provide an online platform for teams to communicate, share information and work together more effectively.
Increased efficiency: Business applications can streamline processes and automate mundane tasks, allowing teams to get more done in less time.
Faster business growth: Software can help businesses scale up quickly, allowing them to focus on growth and expansion rather than tedious workflows and unorganized business processes.
Improved customer satisfaction: Customer support software can help businesses deliver better, more consistent customer service, resulting in increased customer satisfaction.
Enhanced decision making: Business management software can provide insights and analytics to help businesses make informed data-driven decisions that can improve their performance.
10 examples of business software
How do you unlock these benefits? Consider where your gaps in productivity are, where your team is wasting time with manual processes, where there is a risk of inconsistencies or errors in your business workflows. These are where you have an opportunity to boost team performance by using business software. To help inspire you, here are 10 business software examples:
Team communication software
Team communication software is a type of application used to facilitate collaboration and communication within teams in real-time, regardless of location. Most communication software tools provide messaging, basic file sharing, video conferencing, and other essential collaboration features for teams that need to communicate asynchronously.
How it boosts team performance:
Helps teams collaborate asynchronously and avoid the need for time-consuming routine meetings
Makes it easier to share documents and project updates in real-time, so everyone can stay on the same page
Organizes communication into channels, teams, or other groups so employees can find what they need more easily
RECOMMENDED TOOLS:
The recommended collaboration tools for both small business owners and larger, enterprise companies are Slack and Microsoft Teams. Both of these collaboration tools are designed to help teams communicate more efficiently, stay on top of product updates, share project progress and timelines, and brainstorm ideas: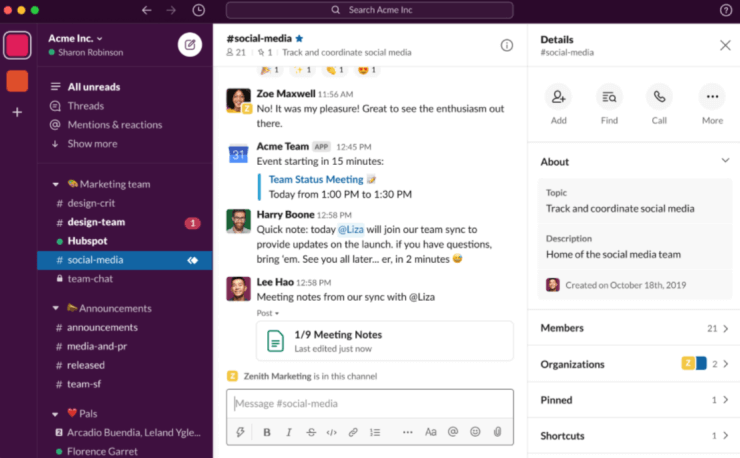 With Slack, you can create channels for specific topics, set up notifications for new messages, and quickly search for relevant conversations.
Microsoft Teams has similar features, plus it allows you to host video conferences and share documents.
Both of these tools are great for keeping teams organized and on the same page, making them essential for any business.
Project management software
Project management software is essential for growing teams looking to collaborate, manage, and organize tasks across multiple complex projects. The right software should be flexible enough to accommodate individual needs, while helping team leaders and project managers manage large-scale, cross-functional projects. With the right software in place, teams can keep projects on track, on time, and within budget.
How it boosts team performance:
Keeps projects and business tasks on track by providing teams a way to visualize their progress and easily identify at-risk areas
Enables a team lead, business owner or project manager to manage resources and allocate them to tasks all in one place
Helps streamline business management by organizing and automating recurring processes, tasks, and business operations
Allows leaders and managers to track project progress through visual reports and dashboards
RECOMMENDED TOOLS:
The most popular project management tools are Asana, ClickUp, Jira, and Trello. Each of these tools offers a suite of features and capabilities that can help teams stay organized. Asana and Trello are both popular for their straightforward and intuitive user interfaces, while Jira is well-known for its robust set of development tools and integrations.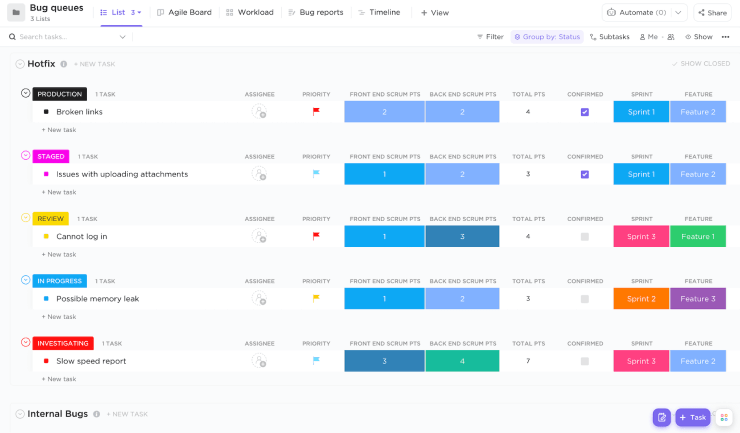 ClickUp is a newer tool that has quickly become the go-to choice for many businesses, thanks to its flexible and powerful feature set:
A visually appealing and intuitive user interface that makes it easy to manage tasks and projects
A powerful search engine that makes it easy to find information quickly
Customizable views and workflows that allow you to tailor the software to your specific needs
Robust project management features, including Gantt charts, sprint planning, and resource management
Automation tools that help streamline processes and save time
Advanced reporting tools for tracking progress and performance
READ MORE: How to Manage and Grow Your Small Business with ClickUp
Customer relationship management (CRM) software
Customer relationship management (CRM) software is software that is designed to help businesses manage and streamline their customer relationships from a prospect's first contact with the company through their full purchase lifecycle. It typically includes features such as customer segmentation, lead management, contact management, and data analysis.
CRM software enables a successful business to track customer interactions and better understand customer needs, helping them to build a more successful relationship. A strong CRM will either include email marketing and customer support software features or easily integrate with your email marketing software and customer support tools.
How it boosts team performance:
Streamlines the management of customer relationships from first engagement through the customer's full lifecycle with your company
Improves the ability to provide timely, targeted communications based on the buying stage a prospect is in, helping you to close more deals faster
Helps teams to build better long-term, profitable relationships with customers
RECOMMENDED TOOLS:
Freshsales is our recommended choice for most small businesses. It's an easy-to-use platform with outstanding usability and allows easy extension with low-code development and over 1,100 custom apps as well as the ability to extend the functionality and build a custom CRM software solution using rich APIs, a robust developer toolkit, and UI design library.
Salesforce is a comprehensive CRM with powerful analytics capabilities to help you gain deeper insights into customer behavior. It's great for medium to large enterprises who need the full scope of features and customization options.
HubSpot is an all-in-one CRM with features to help you automate customer engagement and sales processes. It's great for growing businesses who need some advanced features but don't need the full suite of customization options of a more heavy-weight tool like Salesforce.
Zoho CRM is a great choice for small businesses, as it has a range of marketing and sales support features and it's an excellent value for money.
Read More: How to Build a Custom CRM Software? [Practical Guide]
Document management software
Document management software is a type of software designed to help teams keep their documents and digital content organized, accessible and secure. This type of software offers a wide range of features and functions that make it easier for teams to organize, search, and share documents, both within their organization and with external prospects.
How it boosts team performance:
Provides a single, centralized source for document storage, helping to avoid disorganization, poor version control, and unintentional document duplication
Keeps all sensitive documents secure
Provides employees easy accessibility of documents from anywhere
Some tools even provide document collaboration features., commenting, and the ability to send documents out for approval and review.
RECOMMENDED TOOLS:
Dropbox is a powerful and reliable document management software tool that is quickly becoming the go-to choice for businesses of all sizes. Its easy-to-use interface, robust storage capabilities, and advanced security features make it an ideal choice for any organization. Dropbox offers an array of features, such as:
A secure, cloud-based platform for storing and sharing documents.
Robust search tools to easily find what you need.
Integration with popular productivity tools like Microsoft Office and Google Apps.
Advanced security features to protect sensitive information.
The ability to collaborate on documents in real-time with colleagues.
DocSend feature allows you to collect page-by-page analytics to monitor top performing pages, average completion percentage, and document version performance.
Dropbox Sign allows you to prepare, send, sign, and track agreements with legally-binding eSignatures.
Other options include Box, Microsoft Sharepoint and Google Drive.
Accounting software
Accounting software is a type of computer program that is used to manage a company's financial data and records. Account software tools typically provide the ability to record, analyze, and report financial information, such as revenue, expenses, profits, and losses. Some tools also help you to manage accounts payable and receivable, track inventory, and time tracking.
How it boosts team performance:
Automates financial business operations and eliminates manual data entry
Streamlines financial reporting and ensures accuracy of reporting
Offers real-time visibility into financial data
Helps to identify potential fraud or discrepancies
RECOMMENDED TOOLS:
Some of the best accounting software tools are QuickBooks, Xero, FreshBooks, and Zoho Books. Each of them offers a range of features for managing financial activities, such as invoicing, bookkeeping, and tax preparation.
Which one should you use? It depends on what type of financial activities you are looking to manage:
QuickBooks is a popular tool that is great for small businesses, offering a range of features for invoicing, reporting, and payroll.
Xero is a powerful tool for accounting and bookkeeping, with features for automation and insights into business performance.
FreshBooks is a user-friendly tool for invoicing and bookkeeping, providing easy setup and a user-friendly interface.
Zoho Books provides an end-to-end solution for online accounting, with features for billing, clieni invoicing, and expense management.
Marketing automation software
Marketing automation software is a type of software that helps marketers automate their marketing tasks and activities. This technology helps teams save time, increase efficiency, and improve their marketing efforts by automating a range of marketing activities such as email marketing, social media management, lead generation, and more.
How it boosts team performance:
Streamlines marketing processes and reduces manual work required to complete tasks such as launching email marketing campaigns, social media management, and lead generation
Provides a way to send targeted, timely, and highly-relevant communications to prospects and customers
Establishes more consistent, reliable, and repeatable marketing processes across an organization
Helps teams make data-driven decisions and increase ROI by providing visibility into reporting
RECOMMENDED TOOLS:
The most popular marketing automation tools include HubSpot, Marketo, Drip and Mailchimp. Each of them offer a variety of features for marketing campaigns and customer management, including lead scoring, automation workflows, and email marketing.
Which one should you use? It depends on what type of marketing activities you are looking to perform:
HubSpot is well known for its comprehensive suite of marketing tools, allowing you to easily create and manage campaigns. It easily integrates into the HubSpot CRM as well as other third-party CRM tools.
Sendinblue is a sales and marketing solution that helps you market to your customers through things like social media, web chat, email, and text messages.
Marketo is a marketing automation platform that helps companies identify and engage potential customers, automate marketing campaigns, and measure the effectiveness of their efforts.
Drip is an eCommerce CRM platform that helps brands build relationships with their customers and personalize the customer experience to increase customer lifetime value.
Mailchimp is easy to use and offers basic email marketing and list management capabilities.
E-commerce software
E-commerce software is designed to help businesses create an online presence to sell products and services. This type of software typically includes features such as website design, payment processing, product catalogs, order management, and sometimes even a CRM tool.
How it boosts team performance:
Allows businesses to easily create and manage an online store without extensive web development skills
Integrates with existing systems such as accounting and inventory management
Automates processes such as order fulfillment, payment processing, and shipment tracking
Provides a user-friendly platform for customers to search and purchase products
RECOMMENDED TOOLS:
Shopify, WooCommerce, Squarespace, and Wix are all e-commerce software solutions that can be used to create and manage an online store.
Which one should you use? It depends on your specific needs:
Shopify is a popular and easy to use solution with plenty of features, including built-in payment processing, third-party integrations, and customizable themes.
WooCommerce is an open source platform that is free to download, making it an attractive choice for those looking for an affordable e-commerce solution.
Squarespace is designed to be user-friendly and provides a range of design templates and integrated payment options.
Wix is a great option for those looking for a quick and easy way to build an online store, with its drag-and-drop editor and a range of integrated features.
Human resources management (HRM) software
HRM software is a type of software that helps human resources departments manage employee records, payroll, benefits, performance reviews, and other HR-related tasks. It provides an organized platform to store and manage data, automate processes, and streamline business operations.
How it boosts team performance:
Increases visibility and control of employee data for HR, management, and hiring teams
Improves HR process efficiency and accuracy by automating routine employee management tasks
Improved compliance with regulations and policies by operationalizing HR business practices
RECOMMENDED TOOLS:
Some of the most popular HRM software tools are ADP, Zoho Benefits, and Bamboo HR. Each of them provides a comprehensive suite of features for managing human resources, like payroll, onboarding, and tracking employee performance.
Which one should you use? It depends on what type of HR operations you are looking to manage:
Zoho People is a cloud-based HR system providing easy-to-use tools for managing employee data.
ADP is a comprehensive HR software offering advanced features for managing complex HR operations, but can be costly to set up and maintain.
BambooHR is a powerful HR tool with comprehensive features for managing employee data, but it can be more complicated to set up.
Business intelligence (BI) software
Business intelligence (BI) software helps businesses improve their decision-making capabilities by providing data-driven insights. It typically includes features such as dashboards, reports, and data visualization tools, as well as data mining and analysis capabilities.
How it boosts team performance:
Enables better decision-making through data-driven insights
Helps uncover hidden business trends by combining data sets and providing detailed reports and visualizations
Supports data sharing and collaboration across teams
Automates tedious report-generating processes
RECOMMENDED TOOLS:
The most popular BI software tools include Tableau, Microsoft Power BI, Oracle Analytics Cloud, and SAP BusinessObjects. Each of them provides a broad range of features for data visualization and analysis, including data integration, dashboarding, and predictive analytics.
Which one should you use? It depends on what type of analytics features you are looking for:
Tableau is well known for its data visualization capabilities, allowing you to quickly create insightful dashboards without much effort.
Microsoft Power BI is great for tracking more in-depth analysis and can provide you with deeper business insights.
Oracle Analytics Cloud is an enterprise-level solution that offers comprehensive analytics capabilities for those who have complex data sets.
SAP BusinessObjects is well suited for large-scale organizations and offers a suite of analytics solutions.
Enterprise resource planning (ERP) software
Enterprise resource planning (ERP) software is used by organizations to manage their business processes, operations, and customer relationships. It combines various interactive applications to provide an integrated view of the organization's operations and is typically used for financial, sales, and customer management.
How it boosts team performance:
Consolidates data from multiple sources and automates data entry and reporting
Helps teams make data-driven decisions by providing enhanced visibility across the business
Streamlines and standardizes complex business processes, helping to reduce operational costs
RECOMMENDED TOOLS:
The most popular ERP software tools are Acumatica, Microsoft Dynamics, Netsuite, SAP, and Odoo. Each of them provides a broad range of features for managing business processes, including financial accounting, supply chain management, customer and prospect relationship management, and more.
Which one should you use? It depends on the size of your businesses and your specific needs:
Acumatica is a great choice for small and medium enterprises (SMEs) looking for a comprehensive ERP system.
Microsoft Dynamics is a great choice for businesses looking for an ERP system that is integrated with the Microsoft Office suite.
NetSuite is a cloud ERP solution, providing a suite of applications, from accounting and financial planning, to warehouse management, ecommerce, inventory management and beyond.
SAP is a well-known and reliable ERP system with powerful capabilities for managing global operations.
Odoo is an open-source ERP system that can be linked to Python LP as its extensions are written in Python.
What to look for when choosing business software
At this point, you probably have a good idea of the types of software you're looking for. With so many options on the market, choosing the right business software solution can be a challenge. We recommend you look for:
Integration options: It is important to choose business software that is able to integrate with other software and systems in your tech stack to ensure that all data is connected and information is up-to-date across all software applications. If direct integrations aren't an option, look into the cost and risks associated with using a third-party tool like Zapier.
Ease of use: For a software to provide business value, it has to be embraced by your employees. When selecting business software, it is important to ensure that the software is user-friendly and easy to use. This will help to reduce the amount of time spent on training and ensure that users are able to quickly and easily access the features they need.
Security features: It is essential that the business software you choose offers strong security features to protect sensitive data from unauthorized access. Look for features such as multi-factor authentication, encryption, and data access controls.
Cost effectiveness: It is important to consider the cost of the business software you are choosing and ensure that it provides value for money. Look for features that will save time and money, as well as being cost-effective in the long run. It's always smart to compare the long-term costs of purchasing an off-the-shelf tool and building a semi or fully-custom solution.
Scalability: It is important to choose business software that is able to scale with your business. This will ensure that the software is able to keep up with the growing needs of your business and will not become outdated or inadequate in the future. This will help prevent the expense of transferring to a new tool down the line.
PRO TIP: If you aren't sure what your integration needs are, a software architect or consultant can help analyze your current systems and workflows and provide assistance scoping out the requirements for proper integration. It's very important to evaluate software integrations up-front rather than trying to retrofit a solution after the fact to meet your integration requirements.
Need some assistance scoping out integration requirements? Learn more about our Software Development Consulting Services.
Custom vs off-the-shelf business software
While there are a multitude of off-the-shelf business software solutions available, there may be times where you simply cannot find one that suits your needs or the customization work will be so significant that you'd actually save time and resources by building a custom solution. Making the right choice between custom business software and an off the shelf solution can be tricky.
There is no one "right" choice, but rather a multitude of factors specific to your business that may lead you to choose one solution over the other to help you meet goals such as gaining a competitive advantage in the market, maximizing ROI, or expediting growth. With that in mind, let's take a look at some of the key differences between custom and off-the-shelf software:
| Custom Software | Off-the-Shelf Software |
| --- | --- |
| Tailored to your exact business needs and changes and customization can be done relatively easily | Customization options are limited and low flexibility to adapt to needs over time |
| Complete ownership with low recurring expenses | Typically requires a high recurring expense and pay pay for features you don't need |
| Higher upfront costs | Usually lower up-front costs |
| Lead times to develop and launch can be long | Quick setup and readiness to use |
| Greater control over security and data | Less control over security and data |
| May be difficult or expensive to get post-launch IT support | IT support is easily available |
Conclusion
Business software can be a powerful tool for any business, helping teams collaborate, streamline processes, and make better decisions. The right software can help your team boost performance and maximize profits.
In this article, we've shared 10 examples of business software, from team communication software to ecommerce software, that can help you get the most out of your business. With the right tools, you can give your team the tools they need to be more productive, strategic, and successful.
Custom Business Software Development with SoftKraft
Do you want to scope out what it would look like to build a custom software solution? Our custom software development company would be happy to help! At SoftKraft we offer custom business software development services to help teams optimize their business processes and accelerate business growth. We'll work closely with you to understand your unique business challenges, map out a strategic solution, and build software to your specifications so you can maximize your ROI. At the end of the day, the only metric that matters to us is project success.