Data is the most valuable resource
There is no doubt that data is the currency nowadays. XXI century outside of technical novelties brought us the change on the throne of the most valuable resource - it is no longer oil, you can read about it here.
However, beware of the simplest and most crude form of monetization. Data, especially for growing and established companies, contains your hidden patterns and competitive advantage. It is the DNA of your business.
Additionally, it brings an obligation to you as an owner. Your customers trusted your business and shared the private information with you. Even before the GDPR or COPPA/CalOPPA, it was evident for responsible business owners that you should take care of the entrusted goods.
What is your current data strategy?
It is not strange to ask that question. If you are a company that tries to gather and derive insights from data, this is the most critical question for your business.
I know it is hard - you are dealing in that space with a plethora of hops and obstacles. It is challenging hardware and infrastructure-wise. You have to be compliant with legal requirements (GDPR, COPPA, or CalOPPA mentioned above). Moreover, even if you covered those elements, you have to figure out how to "put your data to work." Much ground to cover.
One important side note is that you need to take care of it now - to gain results in a longer perspective. Take an example from great companies like Airbnb, Snap, Tinder, Lyft, Peloton. Years ago, they transformed their data from a cumbersome, expensive-to-store asset into the lifeblood of a successful organization. So they are seeing those results now after 5-10 years of investment - you can find more details about their transformation in the following material.
Introducing Data Flywheel
Thankfully, we can leverage the power of the cloud. Do you know what the common denominator for the companies mentioned in the paragraph above is? When they have prepared their data strategy, they have built businesses on top of AWS.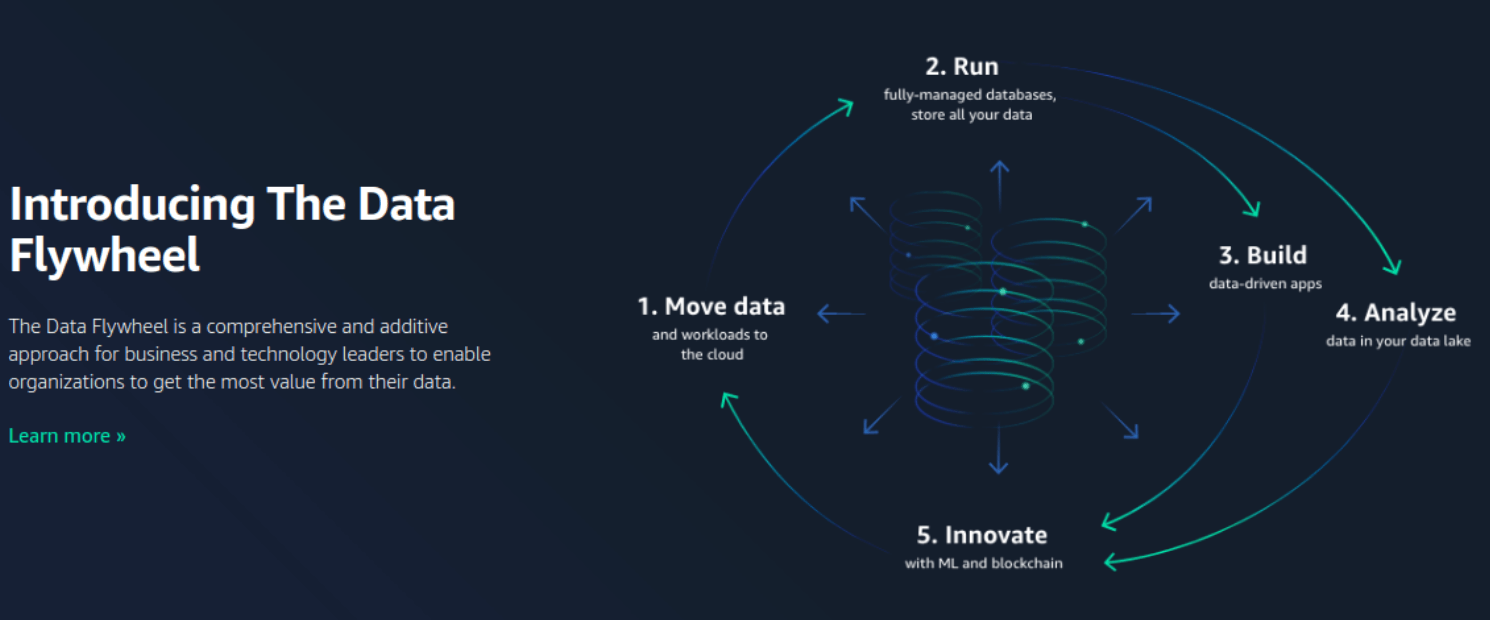 Now, based on their experience, the vendor can support us and has our back. Using their customers' case studies and many years of experience, they have prepared The Data Flywheel strategy. Luckily due to cloud computing innovation and gained knowledge, you do not have to work everything on your own, and neither work hard for so many years.
Why flywheel?
Some of you may ask why we use that particular kind of gear? The analogy is based on "The Flywheel Effect" from the book "Good to Great" by Jim Collins.
The good-to-great companies understood a simple truth: tremendous power exists in the fact of continued improvement and the delivery of results. Point to tangible accomplishments—however, incremental at first — and show how these steps fit into the context of an overall concept that will work. When you do this in such a way that people see and feel the buildup of momentum, they will line up with enthusiasm. We came to call this the flywheel effect, and it applies not only to outside investors but also to internal constituent groups.
According to thermodynamics, perpetual motion is impossible. However, who said the laws of physics have to apply to business? When used correctly, data can generate self-sustaining, perpetually accelerating momentum for your organization.
How to spin the flywheel?
Data Flywheel consists of five steps. It is a comprehensive and additive approach for business and technology leaders to enable organizations to get the most value from their data.
Move data
Even a thousand miles journey starts with a first step. In this case, it will be the first step titled move data and workloads to the cloud.
It brings a multitude of challenges. The most popular ones are:
No downtime during the migration of the data storage.
Moving data of significant scale.
In both cases, AWS has our backs. Database Migrations are bread and butter for the cloud providers like the described one, to that extent that they have provided a fully managed service called AWS Database Migration Service (DMS in short). For the second case, I probably do not have to remind you that Amazon S3 is an industry leader for the object storage. It is affordable, scalable, and reliable services supported by the AWS Snowball or AWS Snowmobile is capable of moving even an exabyte-scale to the cloud.
Run
Managing databases on your own is expensive, time-consuming, and complicated. Almost 31% of companies do not have appropriate skills according to Cloud Computing Survey 2018 report prepared by IDG. It always easy to get started, but when the amount of data grows exponentially every year, it becomes both a constraint for further growth and operations.
This step is titled run fully-managed databases, store all your data. You should focus on your business core, especially if you do not want to be a technology company that specializes in maintaining sizeable database workloads.
How AWS helps with that? By providing a broad portfolio of fully managed database services. Minimum OpEx, maximum business value.
Build
That may look surprising, but as the third step of this strategy, we need to tackle the way how we build our applications. As it states, we should focus on building data-driven apps. Also, that is not an easy thing if you do not have proper support.
Requirements for data-driven applications are growing fast — a one size fits all monolithic approach doesn't work anymore, especially if we are thinking about scaling systems that are focused on data processing and streaming.
Thankfully, thanks to a diversified portfolio of fully managed database services and data processing services (like Amazon Kinesis or AWS Glue) we can build use-case driven, highly scalable, distributed applications — faster and more efficiently. You can handle any workload you need, starting with relational, through data warehouses, up to graph and time-series, ending on such use case-specific storages like an immutable quantum ledger (Amazon QLDB).
Analyze
This step addresses the issue that all companies have after starting their journey in the world of data. In many cases performing critical analytics across all of your data is next to impossible using legacy models of siloed data. 60% of businesses say that finding correlations across multiple disparate data sources is the #1 challenge in their data-driven initiatives according to the 2016 Data & Analytics Survey by IDG.
How does cloud computing help with that? By having no silos: building data lakes on AWS using Amazon S3 and AWS Lake Formation allows you to collect and store data once in standards-based formats (e.g., Apache Parquet), in one centralized repository. Faster, smarter: with AWS data lakes, analyze all of your data with the right tools (like Amazon Athena) to get deeper insights — no need to wait for data to be copied into multiple analytics engines.
Innovate
Having data and workloads in the cloud, and using data-driven capabilities to analyze it, now it is time for the 5th step titled: innovate with ML and blockchain.
The biggest challenge is to get started with Machine Learning and Blockchain technologies. According to the McKinsey report from 2018, only 18% of companies have a clear strategy in place for sourcing the data that makes AI/ML work.
By using AWS services, you can join the more than 10 000 customers worldwide utilizing their services for ML use cases. By Amazon SageMaker, you can: reduce data labeling costs by up to 70%, use built-in algorithms with 10x performance, reduce inference costs by up to 75%. Then with other services, you can leverage Amazon Managed Blockchain for building decentralized applications, or use Amazon QLDB for centralized applications that need to store data in an immutable and verifiable way.
Summary
New data-driven apps, data lake architectures, products, and services create more data that can be stored and managed in the cloud, which allows organizations to develop new capabilities and apps, gain new insights, and deliver new products. Presented strategy is a step-wise, repeatable process, which must be run project by project, like turning a flywheel, building momentum with each turn.
All of those elements provide new challenges, but also give you a tremendous opportunity. Do not waste your time and schedule a free of charge reconnaissance call with us, and learn how you can leverage the Data Flywheel strategy for your company. Your business data should be your the most precious asset, not just liability. Put it to work with our experience!