According to Statista, approximately 90% of start-ups fail, out of which 10% fail in their first year. Start-up failure is most common in years two through five, with 70% of them falling into this category. One of the important sets of choices often overlooked by founders that causes this failure is organization design.
Assembling a proper start-up team for a new and emerging start-up is consequently critical. In this article, we'd talk about how to put together the ideal start-up team, taking a look at the stages of building a successful start-up team. Who Are the Key Members to Hire? When Should You Hire Them? At What Stage?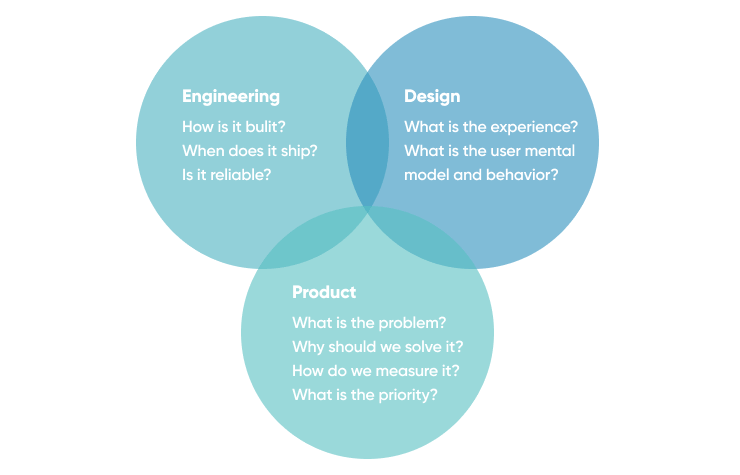 Stage 1: The Garage Era
At the "Garage (Innovation Era)"; The Founders Dream Team should include:
CEO: The Chief Executive Officer - The Dreamer
The CEO is the most important player in your start-up. The CEO is usually the person in charge of the firm's overall direction, vision, and culture.
You can recruit outsiders for these tasks, but it's more customary for the company's founders to take on these tasks. Tierra Wilson, a strategic business consultant of Tierra Wilson & Co., advises that you should always start as the CEO of your company before recruiting anyone else.
CTO: Chief Technology Officer - The Engineer
A member of your team who specializes in technology and development is critical to the success of your start-up. Although you can recruit freelance front-end and back-end engineers, having someone on your team in charge of this area can be beneficial. This role might be split into two independent positions if your team grows.
Having someone who can determine what will work best for your organization, as well as oversee the integration and management of numerous systems, from hardware to software to mobile technologies, is paramount to the success of your business.
CSO: Chief Sales Officer - The Hustler
Your company's sales department is led by the Chief Sales Officer, who ensures that revenue and sales growth targets are met. This person oversees sales and other responsibilities include directing all sales-related activities, such as evaluating, implementing, and reporting on sales tactics that will increase revenue and help your firm expand.
However, before you decide to hire a Chief Sales Officer, keep in mind that the individual you pick for this job must be skilled in areas other than sales. To create significant results for your bottom line, the Chief Sales Officer must also be a knowledgeable businessperson who can negotiate intricacies inside the organization and marketplace.
CMO: Chief Marketing Officer - The Growth Hacker
This member of your team will concentrate on your clients and how they perceive your product or service. Hiring a professional with outstanding marketing and promotional skills is critical to ensuring that your concept reaches a large audience.
"Find a marketing manager who can do it all, "Wilson advised. "They should be able to create copy, create collateral, construct landing sites, execute ad campaigns, and manage social media marketing until you can scale."
They should also connect with your customers and act as an interim community manager to maintain excellent customer-business ties. This team member can collaborate with the product manager to incorporate consumer feedback into the development of the product.
Stage 2: The Scale-Up Era
At the "Scale-Up Phase"
When you have the proper people on board, your start-up can only grow. Only hire those that are absolutely necessary for the operation, and outsource the rest. People who can do things that a program can't, who are full of fantastic ideas, and who are multi-skilled are the types of hires you need.
You can stay adaptable in the face of rapid change if you hire people with a diverse skill set or capabilities that can be transferred to multiple activities.
This would include bringing on board key members such as:

Chief Financial Officer (CFO)
Experts advise businesses to outsource their accounting and finance functions, but if you have the financial resources, hiring a CFO can be incredibly beneficial to your company.
Having someone on the team who is accountable for the money and has a keen eye for detail to manage all elements of the company's finances is critical given that in the beginning, there will be some difficulties like acquiring bank funding and leasing premises, as well as day-to-day tasks like paying suppliers and managing petty cash.
Business Development Manager
A business development manager, like a sales manager, looks for ways to grow your company from both a marketing and sales perspective. For instance, this individual can concentrate on forming relationships or collaborations with other businesses in order to boost income and growth possibilities.
A smart business development manager seeks new business prospects both within and outside of your organization. They'll think of new markets, areas where you could expand/grow, new collaborations, ways to reach new markets, and strategies to appeal to ideal customers while doing so.
Perhaps a competitor offers a product or service that you haven't considered yet. Your business development manager will look for ways to not only stay up with their services but also to differentiate you from them in order to draw more attention to your company.
Customer Service Representative
Customer service is a key skill that every company should have. The cornerstone of your brand is developing strong interactions with your consumers and clients.
It makes no difference how good your products or services are if your company isn't connecting with its customers and clients properly. Your reputation will surely suffer if you don't have professionals addressing consumer queries, calls, or issues. You'll want to fill this position as quickly as feasible.
Stage 3: The Big Leagues
At the "The Big Leagues" Era; The Team should include:
Product Team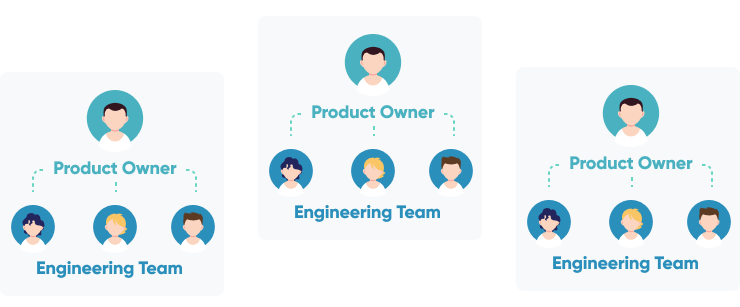 A Product Manager is one of the most crucial hirings you can make as a start-up founder of a firm trying to grow quickly. As you progress through your first year, you'll start with a concept, validate it, transform it into a great product, and then scale it into a lucrative business.
To comprehend what a Product Manager is, you must first define the term "product." A product, whether it's a cloud application or CTO-as-a-service, is a solution to a problem, and your start-up's product is the solution to the problem facing your clients.
As a result, a Product Manager must be familiar with all elements of the product, and can only do so by digging into the issue you're trying to solve, putting your suggested solution to the test against a carefully constructed hypothesis, and iterating on the product with small, measured modifications. Because the Product Manager has a thorough awareness of the problem landscape, he or she will be able to guide the product from concept to fully-fleshed-out solution to your customer's problem.
Your Product Manager will be in charge of analyzing these business goals (and, if the firm is at a later stage, product goals) and conducting a discovery process. Simply put, discovery entails speaking with present and potential customers to answer the following four questions:
What are the benefits of building this product?

For whom are you building it?

What exactly are you planning to build?

What method will you use to build it?
You can read more about organizational team structure here.
Design Team
Assume you've hired a designer who is already a member of your team. Now consider this: "What are the major deliverables for which they are accountable?" What design abilities are needed to deliver these deliverables and provide the greatest value to your users?" Are you looking for simple and intuitive UX solutions to a technically difficult problem? Or, a distinct and eye-catching brand that will stand out in the marketplace?
When it comes to getting your product to market or into the hands of customers, you have a variety of design requirements. You'll need someone with a wide range of skills. If you just have the resources to hire one designer at first, you'll want someone who can oversee the design of these large projects from beginning to end, also known as a generalist.
A generalist has the expertise and skills to be in charge of every stage of the design process. They are unlikely to be experts in many design fields, but they will have interests and abilities that allow them to delve further into certain aspects of the process. The abilities of generalists will vary, but they should be able to work on your core product flows one day, perform user research to better understand your audience, and possibly create the pitch deck for your next round of funding the following.
Generalists are
Effective: One person has complete context and can easily transition from one stage of the process to the next, as well as iterate back and forth.

Flexible: They can be used to solve any design issues you have right now, as well as those you don't know enough about to forecast. This person can adjust if your company's design needs to change in the future.
Generalists aren't experts in every field of design. Although good generalists can handle projects from start to finish, they won't always create best-in-class work. Their capabilities must match what you really require for your core product experience and the rest of your team's skills.
Most of the time, your first design recruit will be a product design generalist, and as the team grows, you'll likely need to supplement them with specialists for specific projects.
However, there are some situations where hiring a specialist as your first designer is a good idea. A specialist, as the name implies, is a designer who specializes in a single field of design. Most start-ups use the term "design" to refer to digital product design, which encompasses many distinct specializations such as research, UX, UI, interaction, front-end engineering, brand, and so on.
Consider employing a specialist as your first designer if a specific design deliverable is so important to your company's success that you're willing to put it ahead of everything else. There may also be times when you require the services of a domain expert, such as an industrial designer for a hardware product.
Specialists are
Ingenious: Specialists have extensive subject knowledge, which is especially useful when you're seeking for game-changing innovation to set you apart from the competition.

Focused: Specialists can sustain their focus without having to constantly switch contexts. They may ship fewer projects than a generalist who can light-touch more work at the same time.
Most businesses would benefit from hiring a product design generalist first. It's also a good idea to think ahead and think about how you'll complement your first designer if you've saved up enough money to recruit more people. Will you hire two generalists to ensure that all design sub-disciplines are covered? Will you hire a full-time or contract specialist to supplement their skills?
Here are some design personnel that you'd need at this stage:
Generalist in Product Design

Specialist in User Interface/Visual Design

Specialist in branding and communication design

Specialist in User Interface Engineering

Specialist in industrial design and hardware

Specialist in tech platforms (mobile, gaming, augmented reality, and virtual reality)

Specialist in User Experience Research
Having differentiated between the generalists and the specialists, here's what the typical roles on your design team should look like:

Design Director
Directors push their teams to answer challenging questions about their judgments and are always looking for ways to guarantee that design decisions are founded on logic rather than gut instinct. When it comes to decisions on the approach to be pursued, the design director has the final say on the design team.
Design Manager
Managers are in charge of ensuring that the design team fulfills the broad vision and follows through on strategies and plans. Design managers know how to create memorable experiences and how to assist other designers in doing so.
Designers
They brainstorm and implement ideas on product functionality, how the user interacts with the product, the look, and product behaviors within frames. This role also includes different specialties such as UX, animation, illustration, and more. This collaborative team spearheads the smooth running of the project.
Engineering Team
Product Component Team
Instead of producing an end-user feature, a component team concentrates on developing one or more elements of the product. These areas of emphasis are referred to as components, and they are similar to the elements of a machine that connect. One component team may be working on the database (DB), while another is working on the user interface (UI).
The component team is flexible cross-functional agile team. Its members pool their skills and knowledge to create components that are reliable, reusable, and testable.
Breaking down the product into logical components and assigning teams to them is a standard method. The problem with this setup is that the component-centric approach does not always take the end-user experience into account.
It also delays the flow of value. Instead of focusing on providing value to the end-user, the teams may spend a significant amount of time testing component behavior. They might also spend too much time talking about team dependencies.
When should you employ a component team?
If you're working with components that employ old technology, service algorithms that require deep theoretical and technical understanding, and are responsible for security and compliance, component teams are the ideal solution.
If your staff are unable to work full-stack, your lead times are acceptable to your customers, you can ensure a balanced workload, and you won't have any trouble connecting the components, this is your best option.
Feature Team
Feature teams work on end-to-end customer features rather than components. This long-lived team, which is also cross-functional, is made up of full-stack or multi-disciplined personnel who can operate across different aspects of the system.
Feature teams are organized around user-centered functionalities, and they go through the product backlog one by one. One project manager, one designer or UX specialist, and two to ten developers or testers are common members. Read more: Hire Developers for Startup — 5 Easy Steps for Founders
Feature-based engineering teams execute pre-set features according to a roadmap established by senior project managers. The disadvantage of feature teams is that they may lack domain knowledge.
When does the feature team come in handy?
So, should you split the teams into feature and technology teams? Feature teams are particularly useful for projects that prioritize end-customer needs and shorter cycle durations. They accelerate value delivery and shorten the feedback loop from actual users by focusing on products that satisfy customer demands.
If your staff work full-time, your consumers need shorter lead times, and you want to focus on the most valuable things, they're the best option.
Product Component Vs. Feature Teams
While component teams are accountable for only a portion of a feature, feature teams are in charge of the entire customer-centric product. The former is optimized for delivering the greatest number of lines of code, whereas the latter is optimized for delivering the greatest amount of customer value.
Teams become dependent on each other as a result of a component-based approach. On the other hand, emphasizing features gives for more flexibility. The feature team has shared team obligations, whereas the component team has specific individual roles.
Choose how to blend the Design team
The hierarchy of different designers in the team, as well as their various tasks and duties, is referred to as the structure of a design team. It's the design team's organizational chart.
Centralized Design Team
The complete design team collaborates in a central location with a single decision-maker in this setup. Individual designers are managed by numerous design managers in large design teams. These design managers are then accountable to a single individual, usually the Director of User Experience or Vice President of User Experience.
In the sense that they work on various design projects within the organization, centralized design teams function similarly to agencies. The design managers or the Director of UX are in charge of the workload.
The following are some of the advantages of having a centralized design team:
Within the design team, communication and feedback exchange are simple.

The design team shares the same vision and design resources, resulting in a unified design experience.

Internal team friction has been reduced as a result of clearly defined positions within the design team.

When designers work on various design projects, they have a wide range of learning possibilities.
Cross-Functional or Embedded Design Team
Designers are integrated into a variety of cross-functional teams inside an organization and report to the team leader. Designers work on a specific product, feature, or line of business with developers, product engineers, and marketers.
They're also known as distributed or decentralized teams, and they offer the following benefits:
Improves cross-departmental collaboration and trust.

Increases the pace with which a product is developed.

Allow designers to specialize in a single project type.
Flexible Design Team
Designers work in cross-functional teams and report to the team leader as well as a central design leader in the flexible design team structure. This hybrid in-house design team organization combines the advantages of both centralized and embedded design teams. Because they may readily be moved around to meet changing organizational design needs, these design teams are adaptable.
The team leader directs and supervises the daily operations of designers in the flexible team structure. The design leader is also in charge of managing the design team, and design reviews allow for discussion with other designers.
The following are some of the advantages of the flexible design structure:
Increased adaptability to satisfy any design requirements that may arise.

As a result of the twofold oversight, there is a greater emphasis on the design process.

Collaboration between design and other product teams has improved.
Building A Solid Design Team Structure: Best Practices
It's not enough to hire designers and put them into teams; you also need to make sure your design team has appropriate resources and is well-managed.
Here are some suggestions to get you started
Ascertain that they have access to the most effective instruments:
Design tools can help your firm save time and money by streamlining the design process. Your designers can develop, prototype, and collaborate all in one location using an all-in-one tool. Because it bridges the gap between design and development, this solution will enable your decentralized designers to collaborate effectively with developers. Your team will find it simple to provide feedback to contracted designers and other stakeholders.
Prioritize growth and development
Give them feedback that will help them enhance their abilities to establish an engaged design team. Schedule one-on-one meetings with each designer in your team on a regular basis to provide feedback and determine whether they require more assistance.
Create a design strategy culture
A design strategy culture allows your design team to play a significant role in achieving business objectives. It makes it simple for other departments to recognize the value of design, which boosts your team's morale.
By teaching your designers to be customer-focused and aligning design goals with business goals, you can foster a culture of design strategy. Everything your design team does should be guided by a design strategy.
Conclusion
Strengthening internal relationships (amongst your team members) as well as external ties (between other organizations and customers/clients) is a primary priority in start-up positions.
Your organization will lack direction and effective leadership if these positions are not filled. In reality, management problems account for 65 percent of all firm failures. That is why it is critical to begin at the ground-up and then grow your staff as your resources allow.
It's critical to think about your company's aims and beliefs when filling these positions. You can find better matches and narrow down the abilities and attributes you're looking for in workers by defining these.
Important takeaway: When hiring, always seek people who can help you enhance your leadership and appropriately represent your brand.
If you are looking for information about CTO Organizational Structure [by Startup Growth Stage] read this article