Performance metrics are essential tools that help leaders focus their teams and resources on important core business areas. CTO deals with all the tech needs of a company by ensuring the controlled use of resources while aligning tech with the broad vision of the company. Therefore evaluating CTO's performance strongly depends on overall business metrics. In this article we will present qualitative startup CTO KPIs.
What is the mission of the CTO?
The job description of a CTO varies from startup to startup. Your can read more details in separate article on CTO Job Description by Startup Growth Stage.
At the top level, CTO mission can be summarized with those 3 points:
Someone you can trust with your long-term technical strategy
Your CTO should really take the reins of the company's technical direction. They will also find a balance between technology and business through budgeting, networking and researching. The CTO needs to stay on top of technology as a whole, in that they are responsible for keeping your company as up to date as possible.
A person of the people
Within the team, your CTO should be exciting and inspiring every member so that they do their best work. Their job is also to make outsiders (clients, customers etc.) feel that your company is the place to be. They'll need to be able to articulate the value of your business and spread that onto everybody involved at any level.
A true leader for developers and other members of the team
Taking this further still, the CTO should be able to rally the team at all times and provide support for all new members so that they feel welcome as quickly as possible. They are responsible for the establishing and maintaining of a strong technical culture within the team,
How should the CTO split his/her time internally vs externally?
It's difficult to give a black and white answer to this question that's more specific than 'a bit of both', but it is something that is important to consider. If a CTO can go out there and make connections and understand the market, then external work is important.
If they can build rapport and implement technological strategy in an effective way within the company, then internal work is important. Really, you're going to want your CTO to be able to do both.
Realistically, we think most CTOs should be able to do break down their time in similar percentages to the following:
External: 70% of the time
Reaching out to make sales and liaising with customers 35%
Marketing and analytics: 20%
Business development: 15%
Internal: 30% of the time
Here, your CTO will be carrying out the internal tasks that we have discussed throughout this article, namely surrounding team management, business planning and technological directing.
How does CTO bridge any gaps between departments?
One of the most important things for any CTO to do is to show leadership in a number of different departments throughout the organisation and to bridge any gaps between those departments.
CTO should show strong correspondence so that each department works better than the sum of its parts:
Engineering
The product engineering is primary area of focus for tech startup CTO.
Work closely with the teams to ensure that the technical direction of the company.
CTO curates a culture of innovation, and often serves as solution architect.
CTO needs to be a strong influencer, and should be admired by those in the engineering department.
Is responsible for recruiting and retention of engineering team members.
Sales
Understands the needs of the customer including any issues that arrive with the sales process, the product itself, or something else within the company.
CTO works with the sales team frequently so that they can work together to effectively close customer accounts.
CTO know the product and can demonstrate it to customers or sales team, as and when they may need to.
Business Development and Partnerships
Outreach and networking is a big part of what the CTO can bring to the table.
CTO follows similar companies to stay on top of the competition.
And keep in mind possible partnerships.
CTO is ambassador for the company including at technical associations.
Marketing
CTO should try to predict long-term competitive trend shifts in the market with thought leadership content.
CTO can be in charge of press releases, speaking at conferences and generally maintaining the face of the brand.
What makes a good startup CTO?
We've already taken a look at the role of the CTO and what they will need to do day by day, as well as what kind of criteria we can measure their success using, but what actually makes them tick? What does it really mean to be a good CTO of a company?
Here are some of the key criteria to deciding this:
Fulfilling the role of the CTO in developing strategies and leveraging technologies to build or enhance the product.
Visibly collaborating with the engineering team and vendors and forming a bridge between those two parties.
An underlying focus on the customer so that more sales are made and revenue is driven.
Noticing the difference between the CTO in a large company vs. that of one in a startup. The CTO in a startup is likely to be more involved with each step of the project overall and may need to get their hands dirty from time to time. As the business grows, the role is likely to become more managerial.
Strong experience in both business and tech is one of the most crucial combinations of skills a CTO should have to offer.
A background in software development is helpful as it allows for the CTO to understand what is actually happening with the software development side of things.
Being flexible in every aspect of the world is crucial due to the hugely varied nature of the work the CTO has to carry out.
Being aware of all of the existing technologies on the market allows for the CTO to bring the best bits of kit to the table, and also to have a better understanding of what the competition is up to.
On top of all these things, we feel that a CTO shold always be able to acknowledge their limitations. Instead of pretending to be something they are not for any part of the company, you are really going to want your CTO to be able to admit when they are not sure so that they can come back with the right answers.
This knowledge of self should translate to knowledge of others as this is hugely important for the hiring process. Not only should the team be good at what they do, but they should be able to help shape the culture of the business. Plus, they shouldn't be afraid to put their foot down and get rid of anyone who isn't working out!
How to measure the CTO performance?
So, what's the best way to find out how your CTO performs on all of the criteria listed above? We've put together three metrics that you can use here. Take a look.
Tech Strategy Alignment
Every time a company misses a key tech trend, this counts as a red mark against the name of the CTO. Further to this, any misalignments between the technology and business strategy will also be red flags on behalf of the CTO.
If your CTO misses key technical inflection points at any time, they probably aren't exactly the best at what they do.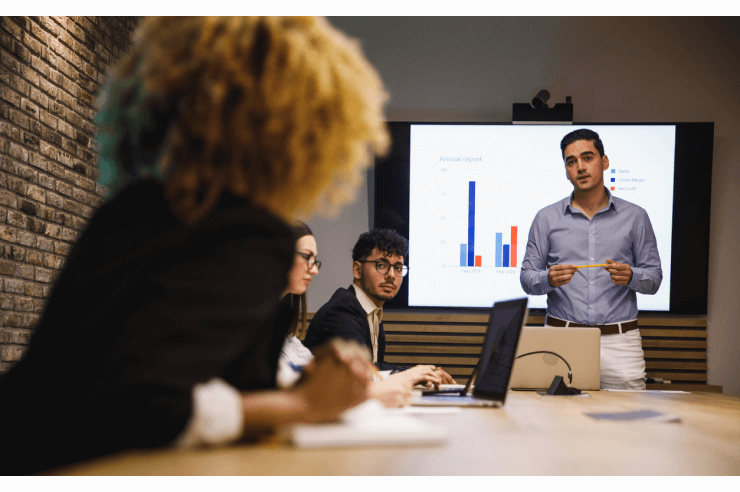 Health of Engineering Culture
To find the answers to this metric, you'll want to speak to the individual members of your team to see how they feel. Don't ask 'what do you think of our CTO?'. Just find out how happy they are with the culture that that CTO should have created and maintained. If they're feeling good, it's likely the CTO is doing a good job in this department.
Internal CSAT
Satisfaction of the CTO stretches outside of the team, too. You could take a look at other teams inside the company and even clients that have worked with your CTO to carry out a CSAT (a method of gauging satisfaction).
CTO Performance Metrics
There are a few really effective ways to analyse the performance of a CTO, and we call them CTO KPIs. KPI stands for Key Performance Indicator, and it is effectively a framework for accurately measuring the performance of a member of a team, in this case the CTO.
It's important to remember that, especially with startups, these KPIs will vary depending on the age and size of the company as well as the nature of the business. Nonetheless, there are still a number that can be applied to the vast majority of CTOs, no matter what company they are working for:
Team attrition rate: attrition refers to the number of people that leave the company. If a company's attrition is low, it is likely that they are a better business with better management, and the CTO has a big part to play in that in the case of most companies.
Uptime/downtime rate: naturally, the more uptime a CTO offers, the more effective the company is going to be, both in the case of time and money.
Team velocity: in this context, this phrase refers to the rate at which a team develops new features. Greater velocity means more product.
New bugs over time: this one goes without saying. The lower, the better.
New critical bugs over time: this one goes without saying even more. A high number here is a big red flag.
Conclusion
Startup CTO KPIs are crucial for successfully growing a tech startup. Finding the right metrics, breaking them down into smaller drivers, and shifting focus to new KPIs are all critical to startup growth. Finding the most effective strategies becomes a guessing game without careful performance metrics.