How to Hire Dedicated Developers?
13 min read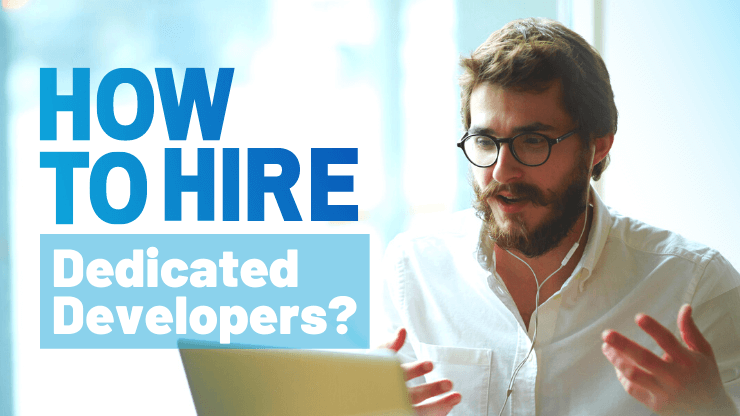 ---
The need for offshore dedicated developers to take over work has skyrocketed when people and businesses began to hire specialized developers for their very challenging development projects.
Today, practically every company and organization wants to hire dedicated developers since it allows them to get their entire task done without having to worry about the salaries, paybacks, reimbursements, and other commitments that come with hiring a full-time in-house team.
Also, Clients are able to meet with developers and have discussions with them for this purpose, which helps them choose the very best developers. You can choose your team based on the experience, talent, and capabilities of the developers.
Furthermore, the company that hires them assumes a significant portion of the risk associated with recruiting a candidate. Dedicated teams also enable highly trained and certified developers to work completely on your project at a cheap cost.
Here comes the question!
When should you hire dedicated developers?
Hiring skilled developers in-house is a time-consuming process that costs money in terms of time, effort, and overhead. As a result, many companies opt to hire full-time developers.
A dedicated development team concept can be beneficial in a variety of situations such as:
When you need to fill talent gaps in your team with experts with particular skills.
It's possible that a company's in-house development team lacks the necessary skills and experience for a given project. Dedicated developers come into play at this point. Hiring dedicated developers with wide and strong expertise in technology allows businesses to take advantage of the latest technologies.
When you need to quickly respond to immediate development needs that are over your capacity.
To save the company from increasing costs due to the immediate development needs, you can reduce schedule and expense variances by hiring dedicated developers from any other nation with reduced labor expenses. You only need to pay the developers a set salary for the hours they work. Furthermore, because remote developers provide flexibility to the project, you can successfully handle any changes in project needs.
When you want to decrease your operational costs.
For this reason, the necessity for remote developers grows, given that the vendor overtakes all HR-, administrative-, and infrastructure-related responsibilities as well as the risks that comes with team scaling
Hiring dedicated developers models
The extended team (staff augmentation) model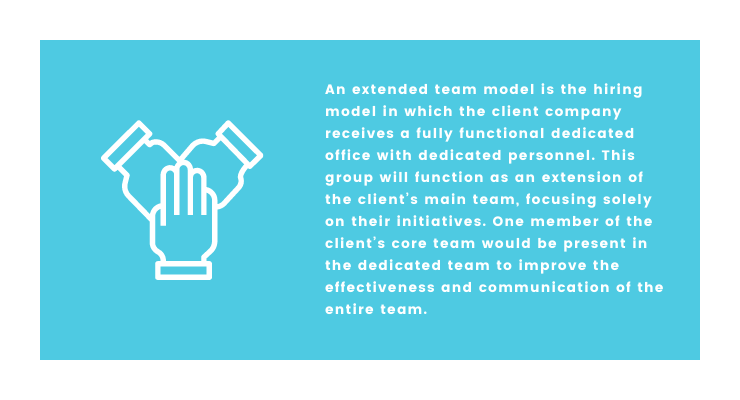 In this model, the vendor supplies all of the necessary technology, software, and office infrastructure to get the office up and running. This saves clients' money on overhead and the costs of establishing a new office.
The client company is fully involved and has complete control. The dedicated team likewise follows the core team's corporate culture, policies, and processes. They follow the same regulations as the rest of the company's core personnel and blend in seamlessly. This allows them to cultivate crucial interpersonal ties, camaraderie, and collaboration abilities in order to achieve greater results.
The extended team is not project-based and does not stop when the project is completed. It's a continuous collaboration between your core team and your offshore workforce.
An extended team is meant to supplement rather than replace in-house personnel. The essential competency, both business and technical, is on-shore in this situation, while the extension team functions offshore, filling the skill gaps in your core employees.
When is it the best choice?
When you have development skill on staff. The extended Team Model is most effective for companies of any size that already have in-house development teams. After all, you can't "extend" an internal team that doesn't exist.

When you require expertise that you do not have on staff. Extended Team Model is a wonderful alternative for businesses that require top-tier talent with special experience but can't afford to hire, train, and keep it in-house.

When you need to swiftly add talent to your team without having to wait for internal recruiting. Because of the scarcity of tech skills, finding the perfect in-house personnel might take months or even years. The extended Team Model allows you to swiftly find the skills you need to complete your tasks.
In-house recruiting activities can continue in the background if you like. After all, you can quickly scale down your outsourcing contract once you've found the ideal in-house resource.
Managed team model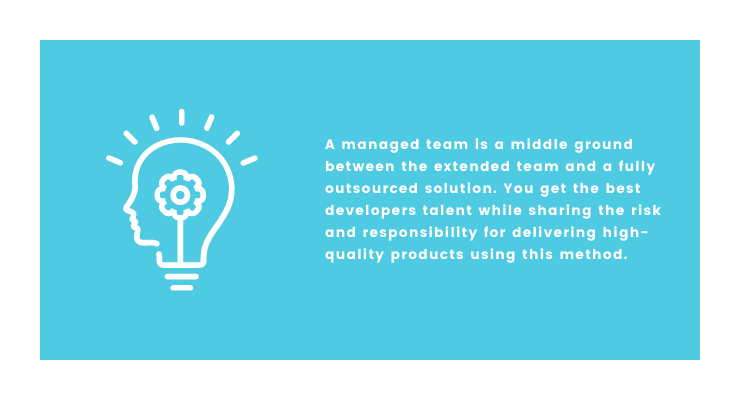 In this model, the team operates independently of your in-house team, but the outsourced Project Manager communicates with the in-house Product Owner as needed to ensure the product fulfils your needs.
To set the rules of participation and communication, as well as make essential design decisions, key decision-making roles are assigned first. From Software Architect to Scrum Master, teams are quickly formed around functional areas.
Unlike an extended team, which functions as an extension of the leading team and is managed separately, a managed team is an independent entity with its own structures and management.
Here, the client retains complete control of the team and the project, while the managed team focuses on achieving the desired outcomes.
When is it the best choice?
When your project management team is overloaded, but you still require a level of in-house supervision and flexibility for your project, consider hiring a managed team to fill in the gaps.

Your outsourcing partner can give the technical experience and insights you require, enhancing your existing knowledge and collaborating with you to find the best solution possible.

When you want to keep your product/vision at the center of decision-making and development.
Managed team model is ideal in these scenarios. You stay involved and have decision-making authority, but much of the day-to-day work is done without you.
Outsourced team model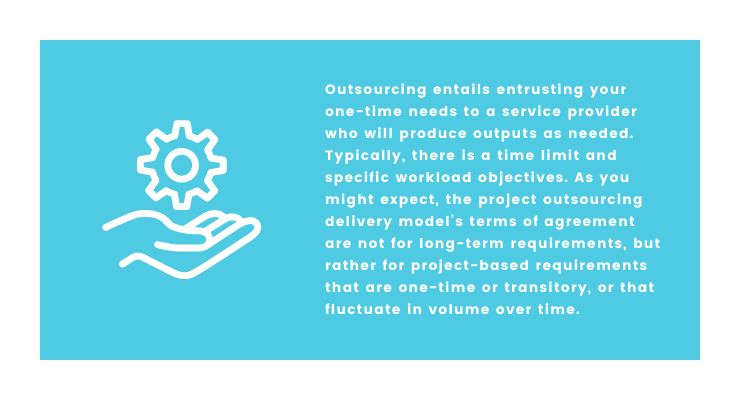 Outsourcing your projects is perfect for one-time demands, tasks that need to be completed but aren't directly related to your business's core function, or additional needs that your team can no longer handle.
This model is the most traditional and least hands-on alternative to hire an outsourced workforce. You may choose to send your specs to an outsourced team who will complete all development and provide a final product by a set timeframe, depending on your team's demands.
In this instance, your project manager will only communicate with the development team on an infrequent basis and will be free of management responsibilities.
Here, the outsourcing provider bears the majority of the responsibilities. Your outsourcing supplier completes your development projects according to your specifications and owns them from beginning to end.
When is it the best choice?
When you want to move full-cycle software development to a partner. This can include helping you with technical specifications and handling everything aspect of project delivery. These needs can be fulfilled by a project-based outsourcing team without your involvement or input.

When you want to simply send your specifications to an outsourced team that will handle the development and return a finished product by a specific deadline. Even the least tech-savvy firms can create a new software product by outsourcing development to an experienced software outsourcing company — either from scratch or by adapting existing platforms and products.
How to hire a dedicated developer in 6 steps?

Hiring, training, and infrastructure expenditures are all eliminated when you hire specialized developers. All you have to do now is evaluate your concept, hire the best engineers, and finish the job.
However, due to the ever-increasing demand for IT services, it is difficult to find the suitable IT personnel. (Especially if you're short on both time and cash).
If you don't hire the right developers, you risk damaging your company's brand. As a result, make sure to follow the guidelines outlined below to choose the best remote software developers.
Step 1: Clarify your expectation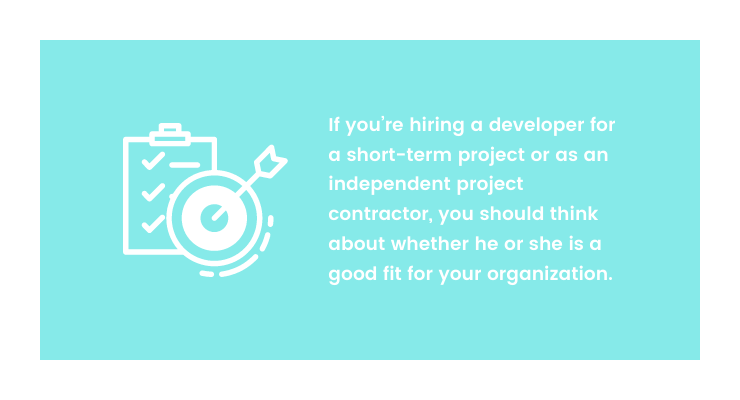 To determine this, evaluate your company goals, identify the required skills, qualifications, and expertise needed to bring that goal to life, and how a developer may assist you in developing it.
Once you've decided what your company needs are and how you want your expectations met, you'll be able to attract developers who are more enthusiastic about working with your company.
Step 2: Find vendors for review process
Assume you've already determined your requirements, budget, and skill set. The next step is to find a team that will meet your requirements. Eastern Europe, Latin America, and Asia are the most typical regions to look for developers.
Certain countries will be more suited than others depending on your language, geography, and budget. For example, if your organization is based in Europe and you need a great English-speaking crew, Eastern European developers are the ideal option.
Surfing the websites of IT businesses may yield some results. However, there's a good chance you won't discover certain things while conducting such research. You should request a portfolio from developers if you want to learn more about their expertise. Brochures or information packs will be provided by vendor companies.
Reviewing case studies will assist you in determining which companies are the most promising. Your decision could be based on how close your idea is to a project that the company has already produced, or something else entirely. In any case, you'll need to compile a list of suppliers you like.
Now that you've narrowed down your choice of companies, it's time to compare them. The best way to do that is to research customer reviews. Because they allow consumers to express their true feelings about the company's advantages and disadvantages.
However, you should be aware that anonymous evaluations could be deceptive. As a result, attempt to approach them with skepticism.
Step 3: Vendors review and selection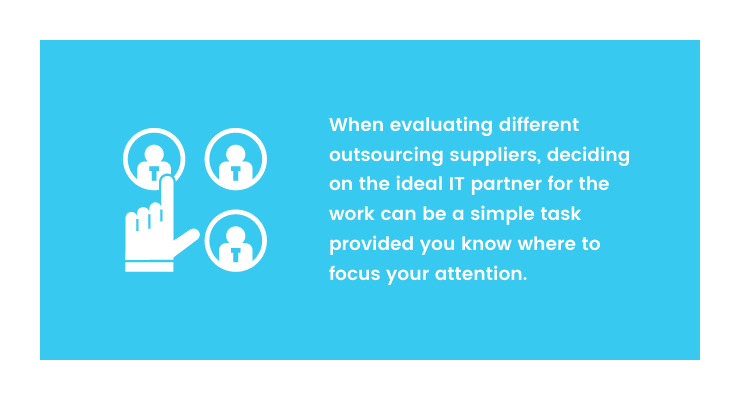 When employing dedicated developers from an outsourcing vendor, there are a few more critical factors to consider in addition to technology competence and hourly rates:
Effective communication processes

The quality of a vendor's services is heavily influenced by its well-established processes and communication in the local market. The better the company's communication process and reputation, the more popular it is as a place to work, and the more talented and experienced engineers it can attract.

Domain knowledge and expertise

Expertise in technology, tools, and programming languages is necessary to create a decent product, but it is never enough to create a great one. Examine the vendor's website, case studies, and client testimonials to ensure that they have a thorough understanding of your business and can provide you with proven expertise.

Technical capacity

Hiring a vendor who adheres to internationally recognized standards, best management practices, and efficient procedures will result in higher-quality outcomes. Consider certificates, acknowledgments, and appraisals like ISO and CMMI when weighing your selections.
Step 4: Conduct personal interviews
Following the vendor's analysis of your request, you'll receive a list of individuals with the experience, talents, and portfolio that fit your project's needs.
And this is when candidate personal interviews come into play. Whether in person or over the phone, make sure to assess not only the candidates' technical skills and expertise, but also their personal and professional characteristics.
Because you're essentially inviting new people to work for you, you need to ensure that the dedicated developers you're recruiting have the correct attitude for the project and the personality to work well with your in-house team.
After all, you are the one who most understands the types of people who would naturally fit into your team.
Step 5: Onboarding and integration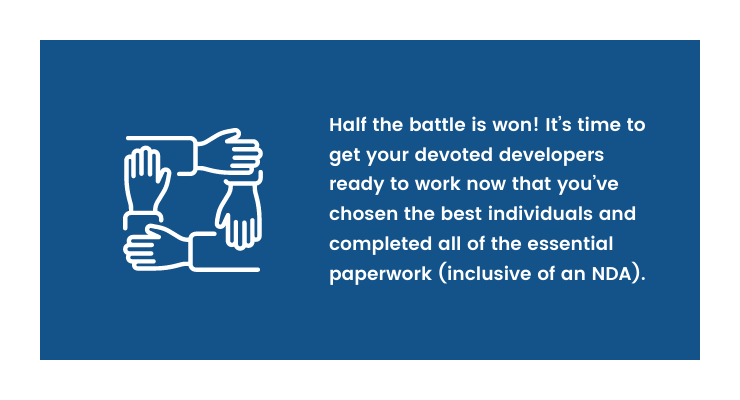 A professional vendor will surely assist you in organizing the onboarding process so that you may integrate your new hire into your existing team as quickly as possible.
But here's what you can do to help the process go even more smoothly:
To minimize any surprises or misunderstandings, lay out all of your expectations for your new hires.

Provide a list of tools and all essential access for your new developers' work ahead of time; Prepare step-by-step instructions on how to set up your development environment.

Set up a team meeting to welcome your new dedicated developers and explain their duties and duties on the project to their in-house colleagues.

Make sure your new team members are up to date on the project's status. Make sure they understand the goals and have access to all current documents.
Operational aspects of hiring dedicated developers
Aside from the obvious benefits, you should be aware of certain key characteristics of this collaboration paradigm which include:
Using NDA to protect intellectual property:
A Non-Disclosure Agreement (NDA) is a crucial and legally binding agreement between two parties that describes confidential resources, information, or other details that they desire to share with each other for certain purposes but not with any other third parties.
Hiring dedicated developers involves that you ask the hired developers to sign a Non-Disclosure Agreement. It means that all data and information obtained will be kept private at all costs.
The outsourcing company is the official employer of your remote developers:
In its most basic form, the outsourcing company's job is to identify, hire, and onboard a client's remote development team at their office. They will handle all administrative and legal issues for the developers, including recruitment, payroll, taxes, sick days, and benefits.
You can manage your remote developers using whatever methods and tools you choose, and you can visit them whenever you want, while your outsourcing company handles all of the administrative details.
Communicate workloging and reporting requirements:
When it comes to remote team collaboration, the two most typical issues are time difference and language barrier. Despite the fact that English is still the most widely spoken language in the IT business, the majority of the hired dedicated developers might not be native English speakers.
Familiarize the dedicated developer crew with your company's communication tools and practices. To minimize misunderstandings and unneeded annoyance, define what type of information should be delivered through which channel and how long it may take the in-house team to respond to emails.
Conclusion
Hiring a professional development team comes with far more benefits than drawbacks. You can benefit from the outsourced specialists' knowledge, skill, and experience, lower development and operational costs, less legal responsibilities and paperwork, less recruitment headache, increased output and team size, and more flexibility
You can also save a lot of money by using this outsourcing approach because you won't have to pay for onboarding or legal fees, which are generally involved with recruiting new employees.