What is Staff Augmentation? — Use Cases and How to Succeed
8 min read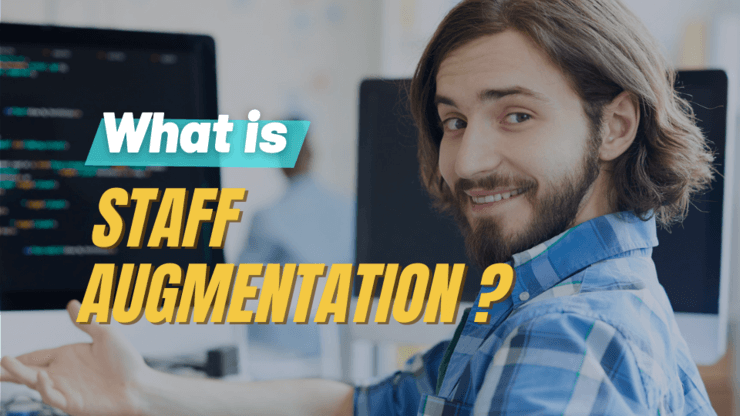 ---
Staff augmentation model is a great solution that enables IT companies to minimize operational costs while maximizing productivity and efficiency. Before you adopt this model, it is imperative to know what it means, its use cases, benefits, and how to be successful with augmented team.
In this article, we demystified the concept of staff augmentation services and brought to the fore its impact on your business and technology operations.
Let's begin with defining the concept.
What is Staff Augmentation?
Staff augmentation is a outsourcing model that allows you get highly skilled tech talent needed quickly. Staff augmentation provider shares with you team mebmers that can fill your skill gap. You interview candidates and decide which candidates fit into your requirements. The augmented staff member you choose immerse themselves in your existing in house team, maintaining your company culture and working in line with your strategic goals. You can downsize or upscale your augmented team based on your needs.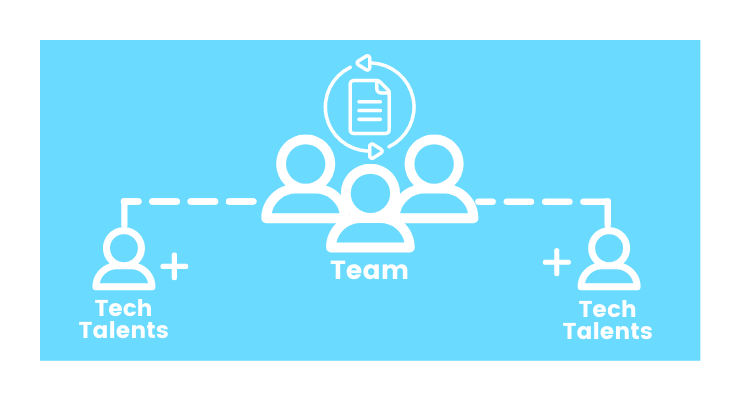 IT staff augmentation use cases
The cost and time of recruiting an in-house team can be enormous. With IT staff augmentation, you can hire highly skilled remote developers and dedicate them to a specific project in your organization. Therefore, IT staff augmentation services reduce organizational expenses and prevents software development delays.
Here are five scenarios you may wish to buy into staff augmentation:
You need to reinforce your in-house team

While you have in-house software developers, it is imperative to complement or improve your current expertise when releasing new products or launching new projects. In this case, you may want to augment your IT team.

You are short on deadline

Recruitment is a long process from job advertisement to onboarding. You probably don't have that luxury of time and patience which could be an average of two months. IT staff augmentation can enable you to meet your needs regardless of the duration of the contract you signed- short term or long-term contract. You can also access a large pool of software developers from any part of the world in no time.

You need specific skills

You want to expand your team within a short time by introducing specialized engineers or technician (DevOps, data scientist, quality assurance engineer, or business analyst)

As a bridge for hire

You need to hire software engineers to meet your short term needs while you recruit permanent employees.
Benefits of IT Staff Augmentation
IT staff augmentation is gaining fast adoption among companies that want to develop high-quality software. Here are some benefits this model can offer your business: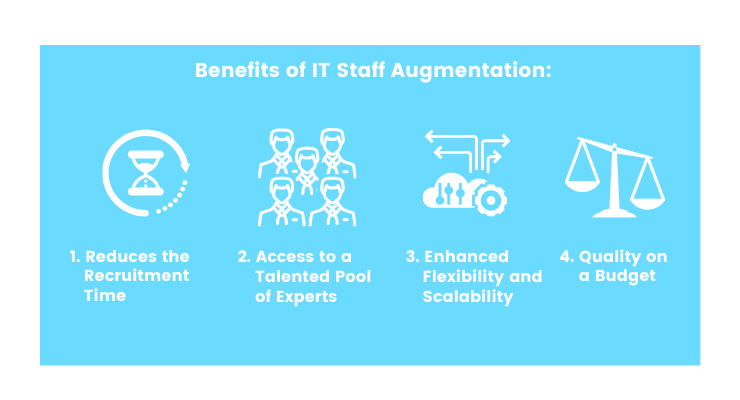 1. Reduces the recruitment time
It takes ample time and resource capacity to plan and organize the recruitment process. You need to draft a job description and update the same on several job portals. Not only that, you will spend time shortlisting and interviewing candidates. Peradventure, you hit a rock during this process, you will need to abort and restart the process.
With IT staff augmentation, the entire task of recruiting falls on the staff augmentation firm. Your remote development team can be ready in a few days.
2. Access to a talented pool of experts
You only decide the particular skills and technical expertise you expect candidates to possess. Staff augmentation vendor does not waste time recommending IT workforce without skills needed. The outsourcing market allows you to select from a global talent pool of remote software developers. It means you can collaborate with professionals from any part of the globe.
Here's what it means!
You can hire foreign nationals to meet your business objectives even if you don't have developers in your region or location.
Staff augmentation enables you to leverage both internal and external resources, detect loopholes and patch them. The model also saves the time you need to spend on training and retraining as experts bring skills and experience into your projects.
3. Enhanced flexibility and scalability
You can easily upscale and downscale your team with an IT staff augmentation model. That's the level of flexibility and scalability you can experience leveraging the model. It makes a whole lot of sense to augment your existing team than hiring full-time developers and laying them off later on.
That does not communicate a good image of your brand.
4. Quality on a budget
You may be running unnecessary overhead costs by paying full-time staff, especially as a startup. You will provide logistics, allowance and bonuses to improve their happiness. This is a different ball game with the IT staff augmentation model where you get to save by hiring high-level developers who will produce the same quality and quantity of work at a fractional cost over a period.
Having known the staff augmentation services benefits, let's talk about making it work.
How to succeed with team augmentation
The IT Staff Augmentation model can impact your business operation and improve your bottom line if you do it the right way. Here are some things to consider to implement the model correctly.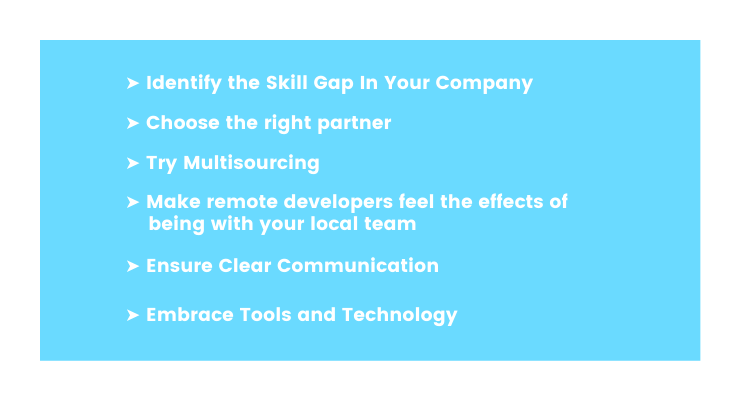 Identify the skill gap in Your company
Every business operation demands detailed analysis. This will afford you the knowledge of the existing skill gap in your company.
You can either assess your current or upcoming project requirement and match it with the talent audit outcome. That way, you get to know the gap.
Once you have filled the gap, determine if you require the candidate for either short or long-term. Staff augmentation can bridge this gap.
Choose the right partner
You need to ask some fundamental questions when selecting a staff augmentation vendor: What's my requirement?
You can't compare the the selection process of staff augmentation vendors with other providers. Their strategies are usually different and they also recruit for specific cultures. Therefore, research is important. You need to also follow up and assess the credentials and track records of potential service providers. It is also imperative to assess their offerings against your needs. Do they align with your corporate and operational culture? Are they efficient with communication?
Try Multisourcing
You can select two vendors and finally go for the one that is better for long-term collaboration.
Make remote developers feel the effects of being with your local team
If you are working with remote developers, you need to rejig your management style and build a good relationship with every member of the team. You need to constantly communicate to ensure both in-house teams and remote teams are in sync.
Anytime you are holding a Zoom meeting with your remote team, create some time for them to share about their hobbies, lifestyle and interests. This will enable you to figure out what everyone has in common. It will also foster healthy relationships among the team.
Ensure clear communication
Clear communication has the potential to improve your bottom line. Your team needs to understand the vision, mission and project requirements. It is important to enhance the communication process in the development cycle so everyone can buy into decisions and contribute effectively to the projects at hand.
Embrace tools and technology
Leverage project management and team collaboration tools like Slack, Asana, Jira, Trello and Basecamp to foster idea-sharing and track projects' statuses. The lack of communication may lead to miscommunication which can affect the entire project. Therefore, it is highly important to use these tools to enhance communication and collaboration throughout the development lifecycle.
Staff Augmentation with SoftKraft
With staff augmentation services, our in house development team becomes an integral part of your team. We carefully select each team member based on the requirements and expertise you need. They immerse themselves in your project, maintaining your company culture and working in line with your strategic goals.
Engage quality tech professionals

We are driven by 15+ years of experience in IT staff augmentation and engineering software solutions.

Fast process: CVs within 3 days

Time and cost savings - receive first CVs of our specialists and start interviewing candidates.

Risk-free 2 weeks trial   

To get rid of any doubts, check the quality of your dedicated team with no obligation to pay with 2-weeks trial.
01
Describe
your needs
Tell us your technology requirements and describe your project using our contact form.
02
Schedule meeting
to align on goals
No one-size-fits-all. We always create a unique team augmentation strategy.
03
Approve
your team
Our HR and tech leaders provide you CVs. You approve each candidate who will join your team.
04
Start your project
with remote talent
We seal the deal with a contract and launch your remote team.
Conclusion
Staff augmentation will no doubt enable your company to focus on the core business and stay competitive in the technological innovation race. On top of that, you gain several operational efficiencies benefits of staff augmentation, such as reduction in recruitment tiem and cost, office space, improved flexibility and productivity.
For companies that have a particular skill need on a more temporary basis, staff augmentation is not an option but a must. Flexible team augmentation services deal with smooth integration, and ensures you have access to experienced developers anytime you need them.