Poland Team Augmentation
6 min read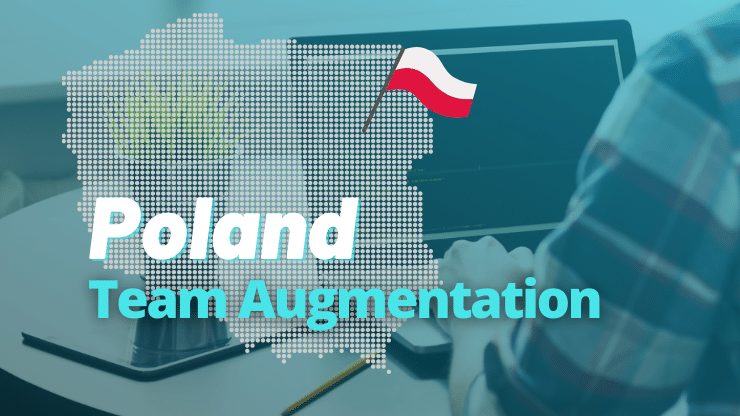 ---
Team augmentation is a great solution that enables IT companies to minimize operational costs while maximizing productivity and efficiency. Most of companies choose Central and Eastern Europe because this region has the most qualified IT specialists.
Poland has one of the largest IT talent pools in the world and serves as a research and development hub for commercial giants such as Google and Microsoft. However, is it the best place in which to outsource software development and hire IT professionals?
Why choose Team Augmentation in Poland?
Polish software engineers have strong technology experience and can assist any worldwide firm in implementing digital transformation.
According to numerous statistics, Poland now employs and lives with around 250,000 programmers. Additionally, Stack Overflow data indicates that the number of software developers in Europe is close to one million.
Most importantly, nearly 1/3 of companies focus on international projects, the remaining over 30% work in companies work in project with Polish capital.
Poland Team Augmentation Facts:
Poland accounts for 25% of Central Eastern Europe's offshore programmer skills.
Around 15,000 students with a concentration in information and communication technologies graduate from Polish universities each year. Simultaneously, around 80,000 students are studying to become software engineers. This implies that the country receives an annual tidal wave of tech talent.
According to the Tholons Globalization Index 2021, Poland is placed 14th among the top 20 digital nations. Additionally, according to the same index, Krakow is among the top twenty super cities in terms of digital innovation.
Poland is ranked among the top 30 nations for offshore services by Gartner.
The Polish IT market is expanding at a steady rate of between 5%-10% per year.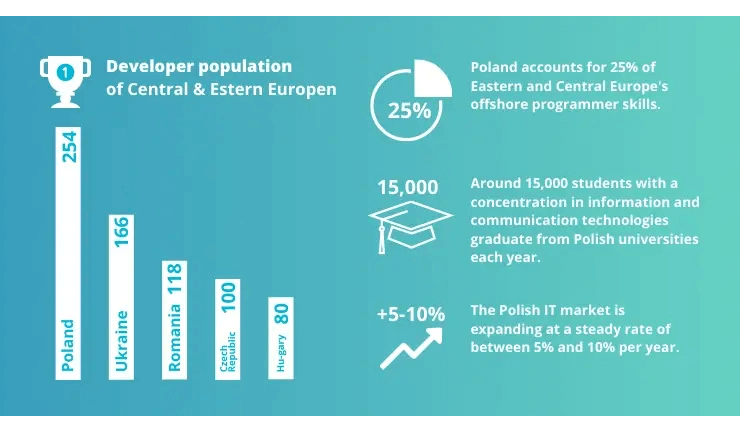 Expertise and programming skills
Polish programmers successfully handle tasks such as Microsoft's Imagine Cup, Google Code Jam, and others due to their advanced skills and expertise.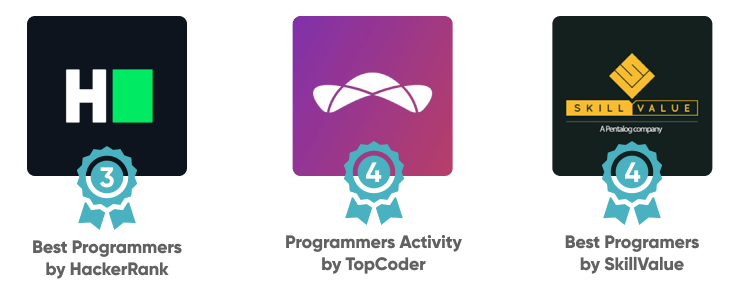 Poland is #3 in HackerRank, ranking first in Java assessments and in the top five with programming languages like Python, Shell, and Ruby.
Cultural affinity
Polish workplace culture is strongly Western in nature. The working week is Monday to Friday, the average hours are compatible with 9 to 5. The public holidays (Christmas, Easter, etc.) are the same.
European heritage does not impede working closely with clients. Poles freely criticize and correct things they disagree with, but also confront their ideas openly and directly. Problems are often solved at one-on-one meetings.
English communication
Almost 30% of Polish people speak English. Since Poland joined the European Union, a large number of Poles have moved to the UK to live and work. Speaking English, then, is a crucial skill.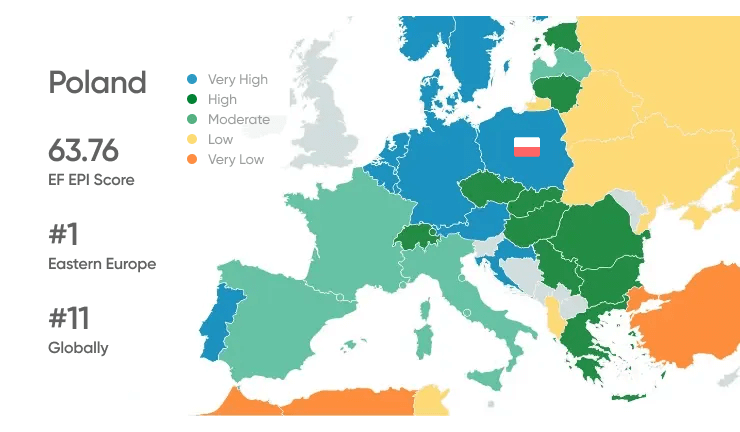 Favorable time zone
Any endeavor requires effective communication. As a result, the Polish time zone overlaps with European time zones and the United States. Polish IT professionals are available to perform meetings with all United States time zones in later afternoon hours.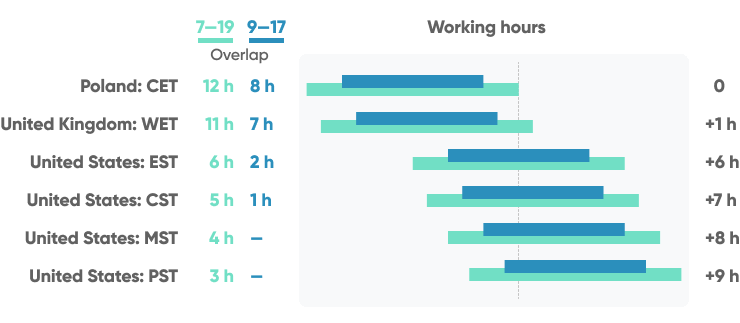 Security Regulation
Poland, as a member of the European Union, adheres to all information technology and data security legislation, including the General Data Protection Regulation (GDPR). When you partner with a Polish IT partner, you can rest assured that your data is in capable hands.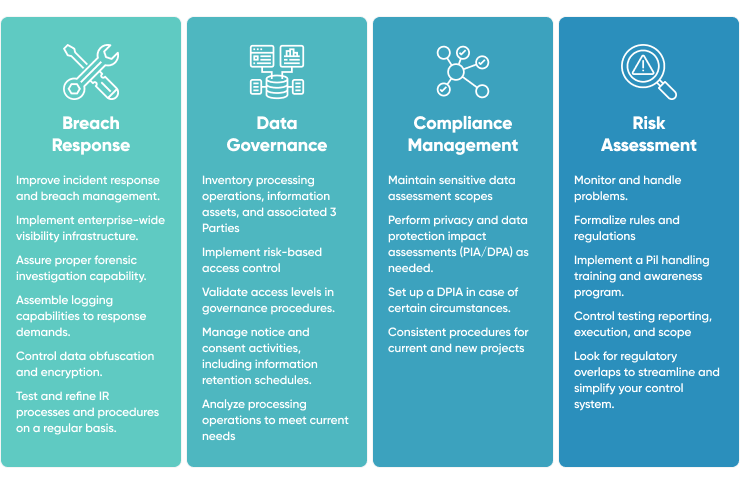 Benefits of Poland Team Augmentation
Businesses over the world are increasingly extending their existing teams in order to tackle market difficulties while remaining competitive. With a sizable crew, company demands can be satisfied easily in a given time period.
Development team augmentation is an IT consulting solution that enables you to expand your development workforce. This outsourcing strategy is cost-effective and guarantees that your firm will profit immediately from highly qualified programmers.
Fast team setup
It takes ample time and resource capacity to plan and organize the recruitment process. You need to draft a job description(JD) and update the same on several job portals. Not only that, you will spend time shortlisting and interviewing candidates. Peradventure, you hit a rock during this process, you will need to abort and restart the process.
Top talent in Central Europe
You only decide the skillsets you expect candidates to possess while the staff augmentation vendor does not waste time recommending required experts. The model also affords you to select from a global talent pool of remote software developers. It means you can collaborate with professionals from any part of the globe.
Flexibility and easy scaling
You can easily upscale and downscale your team with an IT staff augmentation model. That's the level of flexibility and scalability you can experience leveraging the model. It makes a whole lot of sense to augment your existing team than hiring full-time developers and laying them off later on.
Quality on a budget
You may be running unnecessary overhead costs by paying full-time staff, especially as a startup. You will provide logistics, allowance and bonuses to improve their happiness. This is a different ball game with the IT staff augmentation model where you get to save by hiring high-level developers who will produce the same quality and quantity of work at a fractional cost over a period.
Poland Team Augmentation with SoftKraft
With Team Augmentation, our team becomes an integral part of your team. We carefully select each team member based on the requirements and expertise you need. They immerse themselves in your project, maintaining your company culture and working in line with your strategic goals.
Engage quality tech professionals

We are driven by 15+ years of experience in IT staff augmentation and engineering software solutions.

Fast process: CVs within 3 days

Time and cost savings - receive first CVs of our specialists and start interviewing candidates.

Risk-free 2 weeks trial   

To get rid of any doubts, check the quality of your team with no obligation to pay with 2-weeks trail.
01
Describe
your needs
Tell us your technology requirements and describe your project using our contact form.
02
Schedule meeting
to align on goals
No one-size-fits-all. We always create a unique team augmentation strategy.
03
Approve
your team
Our HR and tech leaders provide you CVs. You approve each candidate who will join your team.
04
Start your project
with remote talent
We seal the deal with a contract and launch your remote team.
Conclusion
Poland is one of the most appealing countries for team augmentation in Eastern Europe. At SoftKraft, our remote-first approach allows us to attract the best talent in Poland and scale your team on demand. Fill your open positions with our Team Augmentation