Outsourcing software development offers good leverage to produce a quality product without sourcing an in-house team, which adds cost and continuous oversight. Choosing the right outsourcing partner is the key to time-bound and qualitative product outcomes. But how do you choose the right one out of so many companies offering outsourcing services? This article provides a viable solution for the same.
Global business services like IT outsourcing has a market value of more than USD 92 Billion as of 2021. The potential outlook for growth in the outsourcing industry is high, and the demand for global outsourcing partners has never been brighter than now. It is a valuable proposition for both the customer and the vendors associated with the project in whichever location they seem to be in. And even more specifically beneficial if you are outsourcing to Eastern Europe.
In this article, you will find the benefits of outsourcing to Eastern Europe and the countries concerned about the same.
Top 5 outsourcing eastern European countries
Here is a detailed description of five of the much sought-after eastern European countries that provide world-class IT solutions.
Ukraine
Ukraine is top on the list for IT Solutions for outsourcing companies. The reasons are listed below:
Positive outlook of the IT Industry
Ukraine's export of IT services has crossed USD 5 Billion in 2020-21 and is projected to cross USD 8 Billion by 2025. This is one of the fastest growth rates in the eastern European region. This signifies the strides made for improving the scope of further development of It technologies and the enthusiasm of the country and its people in doing so.
Technically Skilled Workforce in IT
The number of qualified and qualitative IT Specialists is more than 200K and inching towards a quarter-million by 2025. They have grown by more than 50K specialists in the last four years. There is enough qualitative workforce to take up projects globally.
Affordable Developer Rates
The economic conditions of the country allow an average pay of around USD 25K-45K per annum for an It professional. This is highly cost-effective for the customer who is outsourcing and a win-win for both.
Commendable Quality of Work
Due to the high levels of quality education and IT skills, Ukrainian developers are known to be one of the best providers of quality work. They do not compromise quality over quantity. Almost all of them follow an agile approach to development which applies a systematic methodology known around the world for positive outcomes.
English Language Proficiency
English is considered a universal language that helps in communication globally and Ukraine has ensured its people have good proficiency in the language. This removes the barrier to collaborating effectively.
Poland
Poland is another mainstream destination for IT Outsourcing to Eastern Europe for the following reasons:
Skilled IT Workforce
Poland has more than 200K people graduating from their universities each year from technical and IT streams. It has more than 250K skilled developers and the number has been consistently growing year on year.
Cost-Effective Developer Rates
The average hourly rate of an IT developer is $40-56 which is cost-effective to the customer in comparison to that of Western Europe and the USA to quote a few.
English Language Proficiency
Polish nationals are multilingual and more importantly, they communicate effectively in English which is an active need for global collaboration.
Quality of Work
They have proven to provide quality IT Solutions on par with the global standards.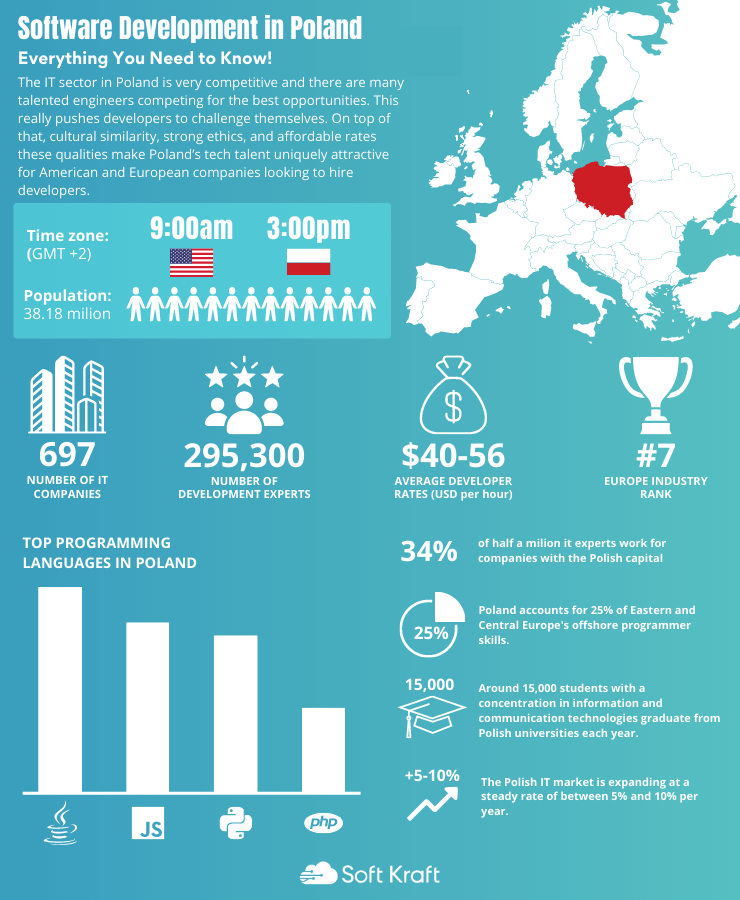 Belarus
Belarus has one of the fastest growth rates in the IT Industry. The government has been progressive towards IT development and Belarus is one of the stronger players catering to the needs of IT Outsourcing.
High Literacy Rates
Belarus is known to have one of the highest literacy rates with over 99.8% amongst the younger generation. They have a skilled workforce of more than 50K people in the IT sector ready to take up projects.
Cost-Effective Developer Rates
The average hourly rate stands at $28-43 which is highly cost-effective in comparison to other world locations such as the USA, Canada, UK and western Europe.
English Language Proficiency
English is promoted as a language of study and the students understand the importance of English to cater to the needs for global collaboration in the IT sector.
Romania
Romania has the advantage of strategic geographic location and stands a place in the top 5 countries of IT Outsourcing to Eastern Europe.
Affordable Hourly Rates
The average hourly workforce rate is $26-45. This makes it cost-effective to choose good developers at lower rates.
Skilled Workforce in IT
HackerRank has placed Romania with a score of 81.9 and ranks it to be among 20 countries with a high talent pool. Though Romania has a lower number of qualified professionals in comparison to other Eastern European nations, the number is significant enough to outsource for quality work output. It has 100K IT specialists and is one of the best countries to choose from.
English Language Proficiency
Romania is the official language of the country, but they promote a multilingual culture. IT Developers are proficient in the English language to communicate effectively with global clients.
Czech Republic
The Czech Republic has a significant IT infrastructure in place. The country has a stable economy and has been promoting the IT sector actively. Being a business hub, the Czech Republic is one of the best nations in Europe with an active IT talent pool.
Skilled Workforce in IT
The country has more than 100K quality specialists. The talent offerings include front-end developers, back-end support, mobile app development, CRMs on the lines of Salesforce, and more. The Czech talent pool has developed some noteworthy antivirus solutions such as Avast and many more.
Highly Educated
The government stresses quality education and students graduate specializing in STEM. Fortune 50 companies such as Microsoft and Oracle have their research and development centers in the Czech Republic.
Cost-Effective Rates
The average hourly rate is $34-53 which is highly cost-effective from a global perspective.
English Language Proficiency
The Czech Republic promotes the use of the English language in its educational system. The people can communicate in English to collaborate globally on IT Projects.
Why outsource software development to Eastern Europe?
One of the most sought-after destinations for IT software outsourcing is Eastern Europe. If you are looking for quality over quantity, then Eastern Europe provides world-class IT solutions that are on par with other outsourcing destinations such as Asia, South America, and Southeast Asian nations.
Skilled and Competent Workforce
They have a highly skilled and competent workforce who can work on innovative projects. The software engineers from Eastern Europe have the experience and knowledge to provide IT solutions on par with the rest of the world. The empowerment of Technical and IT Education in Eastern Europe has drawn people from around the world for access to world-class quality education.
Strategic Geographical Location and Smaller Time zone Gap
The geographical location of the countries in this region has the advantage of a smaller time zone gap to provide services to the rest of the world with ease of working hours.
Adaptability to Cultural Differences and Language Barriers
They are able to collaborate with remote teams in other countries due to their ability to communicate in English and accommodate cultural differences.
Dynamic IT Community
Some of the best IT companies have set up their global offices in Eastern Europe citing talent pool, cost of operations, and strategic location. Eastern Europe is also a hub for IT research and web development (R&D) centres. They currently are the access point to a million and more IT professionals.
Cost-Effective IT Solutions
In comparison to Western Europe, the USA, and Canada, the cost of outsourcing to Eastern Europe is much lesser given the economic conditions of the nations in this region. This is cost-effective for the customer and even the vendor outsourcing the IT solutions.
Security regulation
Countries in Eastern Europe adhere to the same standards as the rest of Europe. This includes following copyright rules, maintaining non-disclosure agreements, and implementing policies such as the General Data Protection Regulation (GDPR).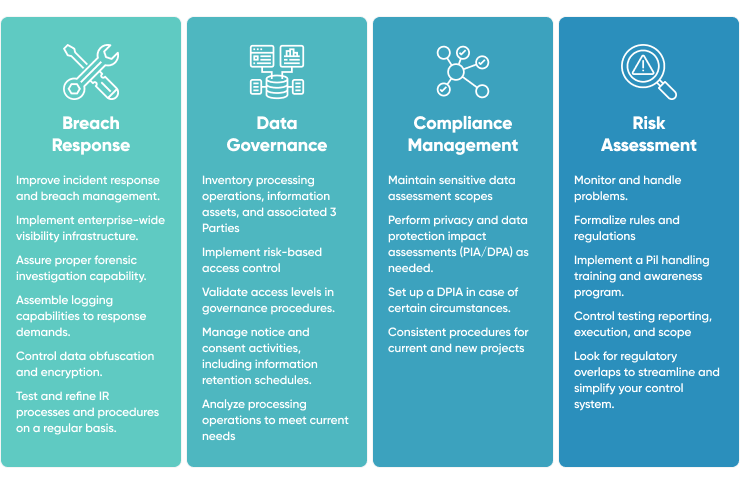 How to choose the right IT outsourcing company
Define your goals, objectives and timeframe
You should know what you want to create before starting. Before hiring a software company, you have to define your goal. You don't need everything planned out from the start, but have a plan.
The reason is simple. It saves you time and money describing an abstract concept to the development team, who won't understand without diagrams and workflows. The biggest mistake you can make is thinking you communicated while you both have different job interpretations. Check with your software development outsourcing partner about the project scope.
Find software outsourcing companies
Assume you know your needs, deadline, and skills. Find a team that meets your needs. Software development companies are easy to find.
Google Search is the easiest way to find software developers. Paid and organic results are useful. Their website provides information on software development services, industries served, previous clients, and how the software house works.
Search software developers. One is Clutch. You can filter search results by location, project size, hourly rate, and industry. Finding a software development partner online may work. There's a chance you won't find certain things through research. Developers should show you a portfolio to demonstrate their skills. Custom software developers provide brochures or information packs.
Case studies help you identify promising companies. Your decision may depend on how similar your idea is to a previous project or something else. You'll need a list of preferred suppliers. Smaller firms with good experience are preferable to large firms with multiple management layers, which can lead to miscommunication and unnecessary overhead.
Check their portfolio and experience in your domain
After narrowing your choices, compare them. Research software company portfolios and customer reviews. Check their past clients and jobs. This has multiple benefits. You can see if they've done similar work. It measures company experience. It shows the company's past work and whether they can handle yours.
This doesn't mean companies with a diverse customer base and portfolio are best for your use case.
Non-disclosure agreements prevent outsourcing companies from sharing past projects. They should be able to outline their previous projects, how they were developed, and how they benefit clients.
How does software vendor approach business goals
To create a decent product, you need knowledge of specific technologies, tools, and programming languages. Before choosing a custom software development company, make sure you and the partner understand your business needs. Business analysts should help with application requirements to guarantee software product success.
Clarify if they offer after-development support, software customization, maintenance, and backup. With these, you'll know what to expect from their services.
You and your potential partners should use discovery and SDLC. Choosing a software development partner who doesn't understand your needs during the sales process is a mistake. MORE QUESTIONS IS BETTER If your partner wants to align on business requirements, pay attention.
Consider what technology will work best for your project
A software development company may specialize in creating apps/solutions with certain technologies. This can be an advantage, but watch out for certain things.
Choose a software developer that stays current. Innovation is needed. The ideal software development company should be eager to adopt new technologies.
Consider their software developers. If you need a Node.js solution, research Node.js companies. Find a specialist. Avoid companies with many specializations because no one is an expert on everything.
Learn about vendors communication practices
Software development is a complex process, and communication issues make it difficult at every step, from defining requirements to gathering stakeholder and user feedback.
Good communication is key to a successful working relationship and software product. Ensure your software development company has a systematic communication process.
Discussing, sharing, and clarifying ideas and the development process is helpful. You and the dev team are always on the same page.
What is the company's development methodology?
A good development structure will make the process seamless and efficient while tackling challenges. Software developers must use proper methods. Check if the development company's project managers use Scrum or Agile.
Choose a software development company with adaptive planning, early delivery, project updates, and communication tools. You're updated at any stage of project development. Every company interprets agile methods differently, so be clear.
What are their security practices?
How secure are they? With the right software developer, sensitive information will be transferred. You must know how the company handles your idea, product, solutions, and confidential materials.
The security issue has another side. How to secure the solution and what security level to use.
How are their company structure and software team dynamics
Software development company business structure and development team dynamics are crucial. When using a company or vetting them, you need to know how they're structured and how the team works.
Some custom software development companies lack a structure, which is a red flag. Organizational level reveals a company's dynamics. A well-managed, structured team will likely complete your task.
Testing, after deployment software maintenance
Software development company business structure and development team dynamics are crucial. When using a company or vetting them, you need to know how they're structured and how the team works.
Some custom software development companies lack a structure, which is a red flag. Organizational level reveals a company's dynamics. A well-managed, structured team will likely complete your task.
Conclusion
Eastern Europe software outsourcing offers some of the best advantages such as lower cost of skilled workforce, strategically located nations that potentially offer nearshoring, lower tax rates, significantly smaller time zone gaps, and most importantly a qualitative output for software development.
It is a known fact that Asia offers some of the best IT solutions for outsourcing but so does Eastern Europe at a greater reduction of cost with quality output. Eastern Europe has made massive strides in recent years to consistently improve its IT infrastructure and talented manpower. The workforce is skilled, experienced, and enthusiastic to take on projects from around the globe.