If you've never outsourced software development before, it might seem a little intimidating. That's perfectly understandable! Putting your trust in a different company to deliver the results you are looking for is a big decision in any capacity, especially when the success of your business as a whole can depend on it.
But let us assure you that no matter what size your company is, software development outsourcing can really be the way forward. Whether you're a startup or a global corporation, there are countless benefits to taking the weight off your shoulders and putting your trust into another company for this stage of the company process.
To add to this, 78% of businesses have a positive view of outsourcing. This is key, not only to your own confidence in the idea but also that of your stakeholders, who will be pleased to see that the software part of the journey is being taken care of by the right company.
At SoftKraft we help companies on their outsourcing journey. Our remote-first approach allows us to attract the best talent in Poland and scale your team on demand. Fill your open positions with our Software Team Augmentation.
7 Key Reasons Why Companies Outsource Software Development
Why do companies outsource software development? Here are some of the key benefits of outsourcing your business's software development.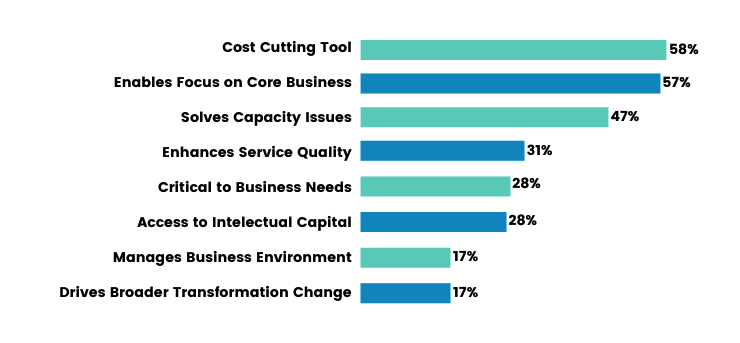 Reduce software development cost
Whether you have an in-house software development team or not, you'll have to admit that the costs are quite high. Not only do you have to pay their wages, but you'll also need to fork out for their benefits package, holiday and more. In fact, some research suggests that the trust cost of a new in-house developer for a startup could be 2.7x the base salary with all of their perks, taxes, meetings etc. added up. That's quite startling to say the least!
So, if your developer is currently costing you $100, that figure quickly turns into $270. Scary, right? But what if you could offload the majority of those costs into another company? Why not let somebody else pay for the package, and bring that cost much closer to the original figure?
In fact, you can bring in a lot more people for a lot less money if you outsource your development. That's because they will be hired on a non-permanent basis, and the benefits, taxes and holidays will be taken care of by the company you hire. It's a win-win!
Bring in domain knowledge
We're not saying that your in-house team is not up to the task of starting a software project. However, the chances are that their skill sets will not be as strong as those of a whole team of highly experienced developers from a software outsourcing agency.
Bringing in fresh minds can help to drive innovation and therefore a better project overall. This can be true for the original developers themselves, the way they work as a team and the stack of technology that they choose to use.
When a good software development company hires staff, it will be looking to bring in a team with a wide range of skills. They're not going to want to hire the same person twice, as any fresh head in the team is likely to bring something new and exciting to the table in some form or another. And you can make the most of this by bringing this team in.
These fresh heads could well be niche experts that can help you to understand the market from a user perspective, and this could well prove to be invaluable information. It will take some work to make sure that the team you hire satisfies this, but with the right research and interviewing, there is no reason that you cannot make full use of this exciting opportunity.
Save time on hiring specialists
The saying 'time is money' really is true, so you can cut costs ever further by bringing in pre-approved specialists. With developers in outsourced teams, the hiring and researching work has already been done. Now, you can swoop in there and enjoy all the successes by spending a minimal amount of time.
Glassdoor says that the average length of a job interview process for business in general is 23.7 days. Multiply that by a handful and you are well into the months. But you can cut most of that out with outsourcing.
Think about all the time spent going through CVs or searching for them in the first place from an online CV library. Then, you have to call up candidates, arrange interviews and finally, hopefully bring the right person to the table. It is often a super-stressful experience that nobody wants to go through.
On top of all that, you'll need to ensure that you're hiring developers with a wide range of skills, putting together a varied and effective team. Then, you'll need to train them up so they can match the ethos of your company and be competent in the tech stack you choose to use. But, out there somewhere, is a company that has done all of this for you already.
The whole process of hiring a software outsourcing team can be equal to or less than the time it takes to hire one single developer into your in-house setup. Think about the time, and therefore money, that this has the potential to save you.
Gain access to world-class talent
Again, there's no doubt that you can't bring in top quality developers through your in-house methods, but the chances are that you will not be able to reach the levels of qualities of a company that dedicates most of its time to finding the best talent in the world.
And it's not just about hiring and firing. Part of the beauty of an outsourcing network is that these companies have a much better chance at bringing in fresh talent on a more ad-hoc basis. They'll be able to get you the right people for the job from anywhere in the world on a one-off basis with no further obligation if they are worth their weight as a company.
Companies all around the world are bringing in outsourced software developers to help develop the company, even if the aim of the company is outside the tech sphere. Whether it's a marketing campaign that needs awesome graphics to power it, or something more niche such as the in-car entertainment system in a new sports car, outsourced software developers are easily some of the most in-demand people in the world.
And they don't even need to be in the same country, let alone room! Hiring full-time staff remotely is almost impossible, yet you can bring in some of the finest software development from the other side of the world at the click of your fingers (kind of) on an outsourced basis.
Further benefits apply as an offshoot of this, too. Top talent can not only get you to where you need to be, but they can even make your project better by pointing out any potential flaws or by bringing about innovative new ideas that serve to make the whole project better. This kind of advice really is priceless.
As long as you can utilise project management and collaboration tools, you can reap all of these amazing benefits.
Increase the flexibility of scaling your project
When have you ever worked on a project that has taken as long as you expected to or cost as much as you thought it would? There are always so many unexpected variables that can make a project more expensive, longer, cheaper or shorter than you thought it would.
At times like this, the best thing to do is scale the project. Having a massive in-house team at the point you realise you don't need it is not going to save you any money, it's going to waste it. Not having enough people for the job causes even more of a problem for obvious reasons.
Software development outsourcing agencies, on the other hand, can add or remove team members from the project as easily as you like. This enhanced level of scalability can be one of the richest rewards any CEO or CTO can gain from the whole outsourcing experience, and it is also something that often does not get considered when the decision as to whether to do this or not is reached.
An awesome thing about software development outsourcing is that it can give you a sense of 'on-demand' service. Imagine a scale between skills and cost (sure, it's a loose idea), but this will help to visually the freedom that you have with this opportunity. Scaling your project as and when you need it has huge benefits for time and money.
A good agency for software development outsourcing will have the ability to take into account the size of your company, the budget that you have and the technology available (as well as, of course, the overall goal of your project), to put together a bespoke plan that you probably will not have been able to put together yourself, even with the help of a whole bunch of in-house team members.
Work with a managed team
It's not just individual developers that can save you manpower, and therefore time and money. Management is a huge part of this too.
Hiring the right manager for an in-house team can be one of the most difficult things you will do with your company, but you don't have to worry about that as much when outsourcing, as every team will already be managed. You'll certainly need management to guide the project down the line, but a lot of the weight of management can be taken away from your own company.
It also takes some of the weight away from yourself. There will be no need to swoop around asking for updates, which will give you more time to focus on the overall direction.
Focus on your core business
And that brings us nicely to the final benefit of working with an outsourced software development company. Being able to focus on your core business will undoubtedly allow you to get a better result overall, as there will be nothing to distract you and lose sight of your original idea. This could well be the most important thing to focus on overall.
Outsource Software Development with SoftKraft
With Team Augmentation, our team becomes an integral part of your team. We carefully select each team member based on the requirements and expertise you need. They immerse themselves in your project, maintaining your company culture and working in line with your strategic goals.
Engage quality tech professionals

We are driven by 15+ years of experience in IT staff augmentation and engineering software solutions.

Fast process: CVs within 3 days

Time and cost savings - receive first CVs of our specialists and start interviewing candidates.

Risk-free 2 weeks trial   

To get rid of any doubts, check the quality of your team with no obligation to pay with 2-weeks trial.
Conclusion
These are just a few of the benefits of software projects outsourcing. Saving time and money is just the tip of the iceberg, but think about the quality you can get if you get the right people through your door!
The chances are, you'll be jumping at the opportunity to outsource with all this in mind. At SoftKraft, we have plenty of experience with various forms of software development, and a high quality team waiting to help you out.